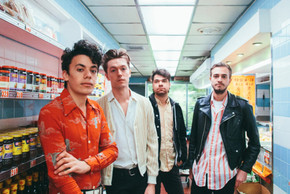 Ecstasy and sorrow, post-punk and pop, east and west – all those times when you're caught in the middle, there's Mainland. They are the soundtrack to moments of freedom and darkness.
Led by enigmatic frontman, Jordan Topf (Vocals, Guitar) and comprised of Corey Mullee (Guitar, Synth), Alex Pitta (Bass) and Joey Sulkowski (Drums), the four-piece arrived with their Girls Unknown EP (2013) and followed soon after with their second independent release, Shiner EP (2014).
The band then signed to 300 Entertainment in 2015, and toured with the likes of Atlas Genius and more. They garnered success with the release of the track, "Outcast" as well as singles "Not As Cool As Me" and "A Bit Out Of Time" – as seen in Entertainment Weekly, Nylon, FADER, Noisey, and more.