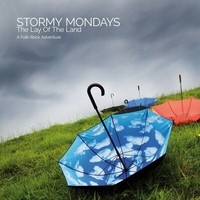 Stormy Mondays creates a gentle elegant sound on the impeccable arrangements that pepper "The Lay of the Land" and "Wading The River". Heartfelt in tone the songs are carefully arranged from the folk-inflected "The Lay of the Land" to the more classic rock inclined works of "Wading The River". Tying these pieces together is Jorge Otero's powerful yet understated vocals. Pablo Bertrand's expressive keyboard work serves as the backbone of the pieces alongside Danny Montgomery's persistent drumming further anchoring the pieces. Rich in detail the songs possess a great detail of flourishes which give each song its own unique personality.
Listen to and share "The Lay of the Land" here:
https://soundcloud.com/stormymondays/sets/the-lay-of-the-land
Opening up "The Lay of the Land" is the sunny work of "Talking In My Sleep". Fragile in tone is the lovely sound of "My Lil' Darling" with Pablo Bertrand's keyboard work a particular highlight, as is Juan Flores's woodwind work. Subdued and sweet the lullaby of "Moon Almost Full" feels like a long lost late 60s folk song. By far the highlight of "The Lay of the Land" is the cool gleaming perfection of "The Finish Line". Ending "The Lay of the Land" is the passionate "Dormi ya". Right from the beginning of "Love And Fire" it is clear that Stormy Mondays seems to be moving directly into a more electric sound reminiscent of Bob Dylan's "Blonde On Blonde" era right down to the playful organ work. With a tasteful mix of jazz and classical is "Silent Star" restrained and fragile. Dreamy organs serve as the anchor of "One Note (Rock And Roll)". Ending the collection off on a high note is the longing of "Not Enough".
"The Lay of the Land/Wading The River" shows Stormy Mondays carrying the sound of 60s and 70s folk into the modern era, doing so masterfully.
Posted by Beach Sloth