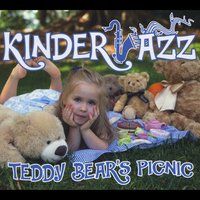 Kinderjazz is the Christobel Llewellyn founded the band together with her partner David Llewellyn as a means for young children to learn about music and instruments used in a jazz orchestra. Originally, Kinderjazz started as a 10 piece but after a chance meeting at Billy Hyde's music store in Sydney with Latin Percussionist Aykho Akhrif, the band soon added an eleventh musician on Congas. Aykho has inspired many Latin charts for the band with five of these being named after him. The twelfth member was a second trumpet, Liz Geyer who decided to go solo shortly after joining, making way for Tom McElvogue to replace her.
In 1999, the band was augmented to accommodate 21 musicians as a one off. For the later recordings a Baritone Saxophone was used to augment the sound.
After performing mainly in suburban clubs, local schools and Sydney Festivals, Kinderjazz was booked in 2008 by the Sydney Opera House to perform 30 concerts as part of the Baby Proms Programme. These concerts were so well attended the band reached a global following with families coming from America and Europe to see them live in concert. This is a large ensemble who play jazz classics to educate children. Their seventh release is The Teddy Bears Picnic.
I've never heard of Kinderjazz but was immediately intrigued by their name and the title of this CD, knowing where that came from. I had to see what it was all about and I'm glad I did. This is a great thing they have going, I just wish I'd heard of them sooner.
The CD kicks off with "Arabella" and they waste no time showing what they're all about if you've heard them before or not. This is just fantastic and you know it's going to be a cool bunch of tracks. They play with it but make no mistake they're brilliant at what they do. There isn't anything to be said in the way of improvement here.
I've always liked it myself, so I can give this all adult flying colors as well as how they make it fun for the youth. They also knock it out of the park for anyone to like. They do these little comical bits to keep the attention flowing around a precision take on the classic. I love everything about this, from the spicy vocals to the popping horns. And the nice touch at the end seals this and they immediately have my interest. Not a drop of quality is at question here.
Next up is their version of "Teddy Bears Picnic" and it's a spot on version with no real big changes, but it is done big band style. I can comment on this particular track from the get go, and when I saw the title I knew this would be up my alley. I say that because I happen to love the tune myself. So, it's obviously hard to ruin this, especially when it's done by such a great outfit. The horns go all out here, it's just awesome.
They get back into the major craziness of it all on "In The Micro Aykho," and bring the energy back to where it started, as they really do amuse here by making it as fun as possible. All you know by now is that fun is the entire theme everything about Kinderjazz. For instance, on "Razzmatazz" they even sing about it and themselves. It's a great way to keep the focus at this point on the disc. This is a very up and down sort of routine number, so commenting on the mix is in order, and it's not the best result on this cut. It's not a bad number, but it's more of a token self-propelled piece without being autobiographical about it.
The fun keeps going with "Do The Latin Alphabet" which finds more of a smooth jazz backing track and a more orthodox vocal approach. They lose nothing here as they keep winning over attention. Everything about this is fantastic, but it does lean way more into contemporary adult listening territory. Make no mistake, this is a serious bunch of musicians, even though they're a massively light hearted ensemble, obviously. They never completely lose their own point in the process.
This is kept up well once again on "Homework Blues' with a classic vocal performance with some narrative mocking to keep the kids interested. This is almost a mad cap number, as it has that zany thread in it.
"What's Cooking Double Booking" give a lesson in pure jazz, and finds itself one of the best tracks on offer. This one is for everyone from the kids to hardcore jazz lovers. This is just another great piece that leads to "Fantabulous," which throws the energy back the kids way again. This once again takes on the music lesson approach. If I had to let one track go, though, it would be this one.
"You Can't Stop The Music" is more of the same to keep up the pace as they keep the energy at a peak high. But on "Potato Salad" they do a full spoken word track which comes as a complete surprise but a cool one for the kids as they balance this release very well. This is continued on "Signals From Outer Space" which is the closing track, and these two are full of content that is better left heard than described, as you can't give it all away. But I can say here that I am very surprised I hadn't heard Kinderjazz before, and will continue to enjoy this and keep an ear out for more them, past and future releases.
Larry Toering
http://www.kinderjazz.com/christobel.html
Purchase Link: https://www.cdbaby.com/Artist/Kinderjazz