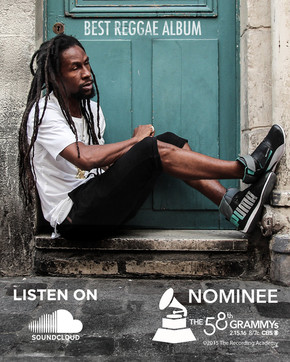 1. Since the Grammy nominations were announced in early December, Jah Cure's album The Cure has jumped back into the top 3 on U.S. Billboard Reggae Album chart. He is the only nominee charting in the top 5.
2. When The Cure debuted in July, it held the #1 position for three consecutive weeks on the same chart and has remained in the Top 10 ever since its release.
3. He is a true ambassador of reggae music and this album is a testament to the ever-expanding genre. The 13-track set is a return to roots reggae and lover's rock with R&B and pop-fused elements. It features recent hits like his #1 reggae chart-topping John Legend cover "All of Me" (which received over 5 million YouTube views), "Rasta," "That Girl" and "Life We Live" as well as new singles including "Show Love," "No Friend of Mine," "Made In California," "I Surrender" and more.
4. The album has an all-star cast of producers, musicians and songwriters. Jah Cure co-produced the entire album with the help of reggae producers like Christopher "Sketch" Carey, Clive Hunt, Llamar "Riff Raff" Brown, Justin "Jus Bus" Nation and Trevor "Baby G" James. Songwriters like Jason 'Poo Bear' Boyd (Justin Bieber) and Anwar McDonald also contributed to the lyrics with Cure.
5. Despite struggle, his music prevails and stands the test of time. At the moment, he may not tour England, U.S. and Canada due to visa restrictions, but it does not limit his reach. He still remains one of the most relevant reggae artists and tops the charts in each country. His unconventional path to musical stardom, which rose to new heights during his 7-year incarceration, also proves his music has the power to transcend any boundary or limitation.