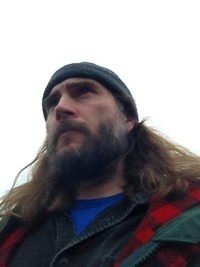 With their rich blend of acoustic and electric instrumentation, June Star combines musical ideals both old and new on their 10th album to date, Pull Awake. Led and founded by singer/songwriter Andrew Grimm the album's 11 tracks explore a good chunk of ground; sounding more like a hungry young band throwing everything at you all at once rather than a band that's been around since 1998.
"Tether" sets the tone for the entire album to come. Andrew Grimm's got a strong voice that feels weathered by time and naturally haggard as his forlorn croon burns and fades like the last drag of a cigarette. Musically speaking, Dave Hadley's pedal steel guitar steals the show on this tune and will continue to do so on pretty much every song. Electric guitars color in the background with the rhythm section of drummer Kurt Celtknieks and bassist Andrew Bopp providing a sturdy, muscular pulse. Still, it's the beautiful acoustic and steel guitars which make for a lush wilderness of country informed rock that feels wild and untamed throughout, especially on the immediately following "Feathers." "Feathers" is accompanied with just a dash of harmonica but features the band the working hard and driving the material more forcefully into rock-laden waters. A stomping beat anchors the dueling guitars with ample, succulent bass lines flowing underneath the groove like a raging river wild. Squealing, noisy riffs only add to the atmosphere which feels like an Ennio Morricone soundtrack interpreted by a blue collar rock band.
It's in the harder, dirt under the nails moments where June Star really sets things ablaze like a harvest moon illuminating the night sky. Cuts like the rollicking, mystical "Wonders," the infectious "Passed Over" and the fire hot "Proof" where subtle electric riff explosions, acoustic melodies and mesmerizing steel licks congeal in glorious unison showcase a band that's locked onto the dynamics and completely stellar in terms of chops. These cats can play all day and all night and whenever they catch a groove by the tail you can be sure they aren't going to let it go. The banjo-kissed, acoustic heavy "Walk Away" may not be as loud as its aforementioned counterparts but it rocks no less furiously; dialing into a pond-skipping, old school country fervor delivered with all of the energy of a kinetically charged rock number. "Coma" and "Apollo" are also overflowing with octane and don't skimp on the riffs, throwing punches at the drywall like Mellencamp, Springstein, Petty and Dylan all duking it out at once.
If anything sucks the power out of this record or sticks out as a true weak point it's probably the ballads which don't really differentiate themselves from one another very much. Thankfully, there's only a scant few. "House Call" and "Atrophy" are simply too restrained to stack up against the rest of the material and on an album primarily centered on rockers, they bring down the pace too much. The curtain call acoustic slow burner "The King is Dead" is more winding and expansive with some very passionate vocals from Grimm but even it doesn't seem to buck the trend that June Star's ballads aren't nearly as interesting as their more swinging jams like "Proof" and "Coma."
Pull Awake is an enticing crossover rock album. Grimm and the boys pepper their rock with liberal shades of country, blues, folk and vintage singer/songwriter charm. For a 10th album things feel surprisingly lively and fresh. Most bands this far into their career would come off like they're running out of steam but June Star musters up an exciting set of tunes that only falter in a few select instances. This an excellent, old school sounding album without falling into the trendy retro arena that so many artists are mining in the modern era.
8 out of 10 stars.
David Shouse