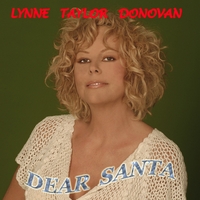 I for one, love this time of the year as it is a time for reflection and giving back and genuinely appreciating the blessings you were given throughout the year. Lynne Taylor Donovan has the spirit and sings her heart out in her Christmas song, Dear Santa.
Donovan is popular in the Canadian country music scene and she sings with conviction and passion. She has a sweet melodic voice that drives the point straight to your heart. She exudes an emotional passion that is captivating to say the least.
"Dear Santa" – Lynne Taylor Donovan
https://www.youtube.com/watch?v=N_TFHczKKfg
Dear Santa is a touching Holiday tune that is reminding us all, the reason for the season. As the song says, send a little love and a little light and she is giving a lovely package wrapped with tensile and bows. It has the perfect festive production and even made me feel all giddy inside as children's laughter filled the air. Yes, I am a mush melon and this song fills me with mushy joy.
Lynne Taylor Donovan is a talented country singer that is giving the gift of music with her song, Dear Santa. It is a nice anthem of love and the Holiday spirit that should be reflected this special time of the year. I highly recommend you checking out her mainstream music as well. Wishing you and yours a very Merry Christmas.
I rate this 1,000 out of 5
Website: http://www.lynnetaylordonovan.com
Rebecca Hosking – www.rebeccahosking.com – hoskingrebecca@gmail.com