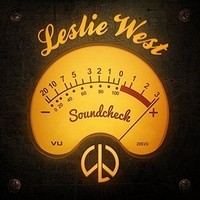 The former NY "Mountain" man has put together a new release with help from his friends guitarists Peter Frampton and Brian May, keyboardists Bobby Whitlock and Max Middleton, bassists Jack Bruce, Rev Jones, and David Hood, drums Joe Franco, and vocal help from Bonnie Bramlett. A few originals, and some unique covers of some classics.
Left By The Roadside To Die has a certain "Mountain" ring to it. There is a really nice version of Curtis Mayfield's People Get Ready done in the style he uses live. His edgy voice fits this piece nicely (better than Rod's).
Rev does a solo bass version of Eleanor Rigby. There is a cool 1988 live version of Willie Dixon's Spoonful featuring the late Jack Bruce (once a member of West, Bruce and Laing) originally recorded on a portable tape machine.
A Stern Warning is an acoustic homage to his friend Howard Stern. Going Down features Leslie on the first solo and Brian on the rest, with a piano intro by the original player from the Jeff Beck Group, Max. A soulful version of You Are My Sunshine (inspired by a minor key version heard on the TV show Son's Of Anarchy) features Peter Frampton. West also covers Tracy Chapman's Give Me Just One Reason, turning it into a bluesy offering.
LW is interesting to both talk to, and listen to via his live show commentary, which I'm sure you've witnessed on Howard Stern. He is an original, and has that unique rough edged rock/blues voice, and picks the right licks. Always a curiosity to hear what he's up to!
http://www.mountainrockband.com/leslie-west.html
By R.M. Engelman