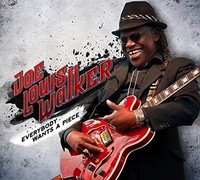 The R&B singer/guitarist has a career going back to the 60's playing with guys like Lightning Hopkins (who once threw him off the stage), B.B. King, and James Cotton, and has released 24 albums. He's won four Blues Music Awards, including the 2010 Album Of The Year Award for Between A Rock And A Hard Place. It's easy to pick up on his influences, as he's been in that culture for quite some time working with the best.
Everybody Wants A Piece is an upbeat tune which sort of bridges the gap between the slow ballad blues period, and when it started to jump. Do I Love Her tells his side of a relationship. Witchcraft is a nice explanatory ballad. Buzz On You sounds like JLW really likes to party. Black & Blue is a nice relationship piece that would fit nicely in a movie soundtrack. 35 Years starts out with what sounds like a barking dog, and continues with some back street quirky slide. Gospel Blues is a B3 led instrumental ballad with some soulful guitar licks. Wade In The Water is a shuffle paced offering accented by his vocals. Young Girls Blues is a nice piano led slow shuffle.
JLW has that Bobby Womack style blues voice from the 50's-60's and his playing covers numerous blues styles. He blends in styles from the early blues, to the Sam & Dave era sound where blues met rock. If you're into blues, you'll like the song selection that covers the gambit.
http://www.joelouiswalker.com/
By R.M. Engelman