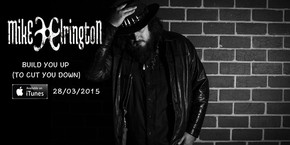 With his outstanding guitar playing, soulful, gut-wrenching vocals and innovative songwriting, thirty-year-old Mike Elrington is quickly showing promise as one of the most thrilling young performers in Australia today.
Whether working with his three-piece electric band (The Advocates) or as an acoustic solo act, Mike's original mix of driving Rock/Blues/Prog/Alternative/Pop and Acoustic Folk/Rock is delivered with raw passion and dynamite in every performance.
Released on 29th March, "Build You Up (To Cut You Down)" is the first single to be taken from Mike's forthcoming album "Two Lucky Stars". In it, Mike tells the tale of the struggles he has faced in his career in the music industry over the years. He depicts the difficulties that challenged him in his attempts to gain support for his music (a feeling all aspiring young artists know only too well). There's a sweet irony in the fact that this was actually the song that first got the attention of both Cheeky Music and Supersonic Media and lead to his subsequent deals!