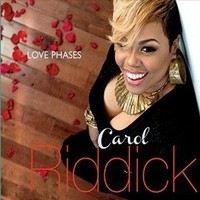 Title Of Album: "Love Phases" released in 2015 independently by Carol Riddick. The genre is soul but I say it also has R&B and jazz undertones. There are 11 tracks with a total time of 44:22. I've had the pleasure of observing the transformation of Riddick from a shy young lady developing into a powerful, confident mature woman! What I appreciate about her latest album "Love Phases" is the quality of the compositions as a whole. Not only is there full instrumentation but the lyrical content is piercing to the mind. It tells a story with twists and turns right down to the last track.
"Jump In"
http://k003.kiwi6.com/hotlink/vcx18yrsz9/Carol_Riddick_s_04_Jump_In.mp3
#11 simply entitled "Fairytale." I can easily see 5 of these tracks topping the charts as singles. Track #1 "Love Like I've Never Been Hurt Before" could have easily been the title track. It sums up the entire album in one melodious song. Hence with Riddick's rich vocals set against an exquisite musical canvass one cannot go wrong.
Track #3 "Beautiful" says it all the track was written by guitarist Chris and Carol and there are no words to describe this soft jazz piece. Track #7 "The Way You Say My Name" is a penetrating real talk from the soul kind of track. It's very descriptive and you can almost visualize this love scene. Now I understand that this particular duet with fabulous Will Downing was written in 2 parts. Will and Carol penned their own love scenes so to speak and the result was beautiful harmonic dynamics.
Track #9 "Pushing Away" I heard through the grapevine that there is a hot remix of this track on the horizon so we look forward to sharing that. My personal favorites are Track #10 "Never Too Late" which has a powerful message that gets me thinking and is definitely a feel good song with its Janet Jackson vibe.(composed by Carvin, Ivan Barias and Carol) And Track #4 "Jump In" which has a fun old school vibe with its catchy hook phrases about facing one's fears, caution to the wind and feel your inhibitions….just got to jump in. This was written by multi Grammy nominated Carvin Haggins and Carol Riddick. Overall out of a 5 star rating I give this album 4.5 stars.
"Love Phases" is currently available on all digital formats including iTunes, CD Baby and Amazon.com
By LA Virgil – lavirgil2010@gmail.com