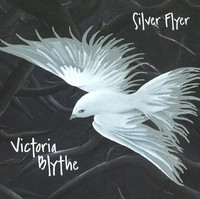 Joni Mitchell meets Nora Jones–stunning voice, dazzling guitar, brilliant originals and innovatively interpreted covers. "Absolutely amazing voice, pitch strong and with a wonderful delivery" Niklas Hansson, Universal Music Scout. Victoria Blythe has been performing for many years in the SF Bay Area and beyond as vocalist, songwriter and co-leader of the award-winning Americana band Calaveras, backup singer and instrumentalist for other acts, and frequent soloist.
This latest 13 Track staple Silver Flyer" was released in 2014 and I must say each track has a ton of dynamics, you almost forget its simplicity and the fact that there is so much going on track to track. Once "Silver Flyer" came on, I kept replaying it over and over. It is a ballad packed with so much tension yet so much emotion. Almost enough to make me cry. Lucky for me, I'm not really the crying type and it takes a ton to move me, and yes the title track moved me. In all seriousness it's an amazing kickoff statement to say the least and as a result wonderful song. "I've Got You (I Feel Good) is a wow good James Brown re-make and "Blind" is a bit polarizing compared to the first 3 tracks but stunning nonetheless. I wonder if it's a coincidence where it's placed on the collection. I usually don't like it when critics use the term "musical journey"—even though I've done it myself on a few occasions. For me it usually means it's a journey you don't want to go on, and the critic is just being nice. But listening to Silver Flyer the cliché applies quite appropriately and almost emotionally.
Criticism: At times Blythe sounds more like Joni Mitchell than Joni Mitchell does.
Silver Flyer does what it's supposed to do – inspires the soul. These songs are beautifully performed and will have the listener drifting off into various emotional landscapes—if I may take the liberty to sound so corny. I get the same sensation with Blythe as I do with Paul Simon, Nellie McKay, Sarah McLaughlin, Marianne Faithfull and Carly Simon.
When listening to the vocal greats, there's nothing to be nitpicky about. Nothing to pinpoint and say, "Aha, this is where they screwed up!" You simply get lost in the music, to the point of not wanting to find your way out. Soulful vocal enthusiasts that love classic high end pop should definitely check out Victoria Blythe as she is clearly worthy of your time and possibly more.
Purchase Link: http://www.cdbaby.com/cd/victoriablythe
Primary URL: http://www.victoriablythe.com/
Score: 4/5 Stars
Robert Greaney