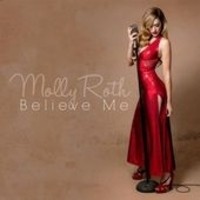 When naysayers question if new artists have the same depth and talent as our longstanding pop icons, Molly Roth is the answer. This North Carolina native, a classically trained and seasoned performer, will startle all but the most jaded with her track "Believe Me".
Molly Roth is a modern throwback of colossal proportions. A class act to reckon with like no other. It doesn't get any better than the soulful swagger she exudes with a touch of classic appeal to round it out on "Believe Me." And believe me when I say she's absolutely fierce on this hot single which will leave anyone looking for more, more more. Her voice soars with passion and grace, as the music evens it all out to a comprehensive delivery. This is magnificently executed in one very magical performance. She is a beautiful talent with an impressive education, simply a world class wonder, and this song is everything one can expect from such a pedigree. Her background goes very deep in laying down her foundations as a singer, and this song encompasses all of her potential, and it manages her "pin up" style without losing a thing, as that is part of her combination of styles worth noting. Anyone can relate to this track somehow, young, old, it doesn't matter, she makes it appeal across the board. Top marks from an artist worth hearing more from, I hope it goes far because the world is missing such class in music today, and getting harder and harder to find in pop circles.
A natural entrepreneur, Molly Roth formed her own music wedding business at 14, received a full scholarship to study at the Gold Country Piano Institute for classical performers at 16, and by the time she was 17, Molly was out of the house chasing her musical dreams. She moved to Hollywood to pursue a career in music, where she attended Musicians Institute. She has performed all over the Sunset Strip, from the Roxy to the House of Blues, Viper Room, Troubadour, Key Club, and more.
This title cut from her debut EP places her five-star voice front and center in a stylish, moody setting. Jagged piano lines and tasteful percussion strength the songwriting's melodic sophistication and the lyrics are interesting with their dangerous, almost noir overtones. An entertaining song, but something more than that – it is evidence of a major new voice in popular music.
This track is sublime, emotional and deeply personal statement but with just the right amount of wisdom to keep a balance. The combination of Roxanna's voice and this amazing movement present a strong Pop format. In this aspect Roth is a rising musical force within the pop realm without going aggressively over the top about it all. Despite this I feel she may be overqualified for the Pop classification. That is why I think Melodic Pop Jazz or smooth Jazz is a more accurate description of her music. Far from being background music the listener is gently invited to truly listen and feel the life-blood pulsating from behind the microphone. "Believe Me" reveals even more from an artist that is equal parts sexy as she is beautiful. "Believe Me" adds a colorful tapestry of musical tidbits and offers a chance to dance and let loose a bit.
These days it seems in the end not a pop song is to be taken too lightly on 'Believe Me" it's all about passion. Perhaps maintaining a healthy sense of optimism about oneself not only in the here and now, but what lies ahead tomorrow. Isn't that what life is all about, what passion is all about. This hot new single truly extols all that is special about life, straight from the heart of a beautiful person, sung from the voice a beautiful woman, behind the backdrop of some beautiful music. Yes that's what Passion Pop is all about.
YOU TUBE: https://www.youtube.com/user/mollyroth527
Download "Believe Me" @ I-TUNES: https://itunes.apple.com/us/album/believe-me-single/id928133804
FACEBOOK: https://www.facebook.com/mollyrothmusic
J, Hillenburg, approved by Cyrus Rhodes