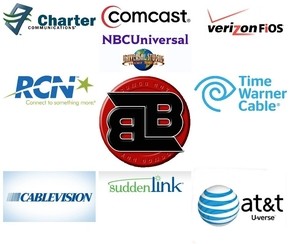 Bongo Boy Rock 'n Roll TV Show Presents Indie Music Videos from Around The World, an unprecedented Indie Music TV show series where independent artists have an opportunity to broadcast their music videos across the US on national television and on GO INDIE TV ROKU Channel.
The Bongo Boy Rock 'n Roll TV (BBRRTV) show series has exclusive national airtime that can reach over millions of viewers in the US, the UK and Canada through 8 major cable companies and GO INDIE TV ROKU Channel. After 4 years of hard work this syndicated TV show series has permanent times slots in Nashville on Channel 9, many TV channels in Manhattan; Brooklyn, Staten Island, Bronx, Queens, New York, as well as Northwest New Jersey, Central Jersey, The Jersey Shore, Western Nevada, California, New Mexico, Portland, Oregon and many other cities and towns across the US and more to come.
With Bongo Boy TV (BBTV) artists don't have to outperform others within their genres to go on heavy rotation on 30 TV channels. Promoting the music video starts the minute an artist comes on board. In order to maximize the media exposure, BBTV provides additional reviews, press releases and other publicity to support the independent artist music video broadcast with each TV episode.
All artists have the power to be promoted on National TV and be in Heavy Rotation on National Television. The TV show series is open to all genre so long it doesn't include profanity, nudity, explicit sexual scenes. BBTV DIY sponsorship is $100.00 and there are 2 regions to select. All recording musician have the opportunity to sit back and enjoy what creative and talented artists do best; which is create and record music and let Bongo Boy TV take care of the rest.
"Without promotion, something terrible happens…..….nothing"- P. T. Barnum 1810-1891
"Bongo Boy TV is like watching MTV, when it was cool" – Scary Cherry and The Bang Bangs. Texas, USA
To submit your music video for promotion by following these 3 steps:
1) Email your music video online URL link to bongoboytv@aol.com
2) Write in your subject line:"Music Video Submission".
3) Include your band name and contact person for this promotion.
BBRRTV is produced by Grammy/BMI member Gar Francis and Musicologist Monique Grimme for Bongo Boy TV and is solely funded by DIY Musician sponsorships and Bongo Boy Records.
LIKE US on FACEBOOK – https://www.facebook.com/bongoboytv
FOLLOW US on TWITTER – https://twitter.com/Bongoboyrecords
SPOTS ARE OPEN FOR ALL GENRE FOR THE NEXT TV EPISODE IN PRODUCTION!
DON'T MISS OUT! SUBMIT TODAY!
Official Web Site – http://www.bongoboytv.com/