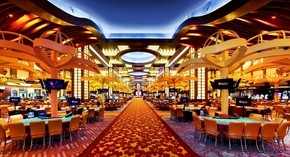 CaesarsCasino.com takes a look at the effect of music in casinos and how players react to a change of tempo as they're playing their favorite games. Jiving to the Beat of Jackpot Bells!
Music is everywhere – even when there's no music playing. It's the essence of what inspires us, excites us and compliments every facet of our lives. Perhaps it would be fair to say that music is soul food and that without it, everything would likely be bland and unsatisfying. With that said, it's interesting to see how different industries use music to set the mood, particularly the mega casinos of the famed Las Vegas Strip or the Atlantic City boardwalk. Music is like a warm blanket on a cold winter's day. Casinos have struck the perfect balance in their use of music on the casino floor. By tastefully providing appropriate melodies, they are able to set the mood for their patrons and keep them well entertained.
Casino Games & Musical Melodies
The casino floor is a hive of activity. There's a cacophony of voices permeating the slots arena from the roulette, poker and blackjack tables. Plus there's the sound of eager revellers just coming in from shows, dinners, and other activities. Add to that the jingling-jangling sounds of slot machines and it's a virtual orchestra that you're hearing. To smooth out all the discordant sounds, casinos often resort to the use of music. You certainly don't want to be playing casino games with a ruckus going on around you. That's where the musical compilations of R&B, Jazz and hip-hop artists come into play. Sometimes, casinos have piano players, or bands rocking away to get you into the swing of things. In any event, there's always music to look forward to.
Online Casinos & Their Use of Music
It's interesting to note that the use of music is not limited to land-based casinos alone. Online casinos use sounds, melodies, jingles and funky beats to maximum effect too. Everything is geared towards improving the experience for the player. When you frequent top-tier online casinos, you're unlikely to hear discordant sounds because this is simply counter-productive to the high-class experience you're about to enjoy. CaesarsCasino.com is an excellent case in point. All of the games come replete with their own 'soundtrack' with slots online games featuring quicker beats and high-octane entertainment. Blackjack, Roulette and Baccarat are largely silent, but players can tailor the audio to include sound effects, dealer voice, and ambient sounds (where appropriate). Online casinos realize how important it is to mimic the authenticity of a real casino experience, so they too make a big effort to jazz it up.
If you're really looking to enjoy plenty of in-game melodies, then slots online games are the way to go. There is nothing more enticing than a fast-paced slots game with its authentic musical compilation. Games like Cleopatra slots showcase an ancient Egyptian theme with all the mystery and intrigue filtering through the musical score. And when it comes to Big Vegas entertainment, there is no room for error. This slots game brings the appeal of Sin City to your ears with authentic slots clicking, ringing bells and jackpot bonanza sounds. No online casino experience is complete without an excellent musical component!