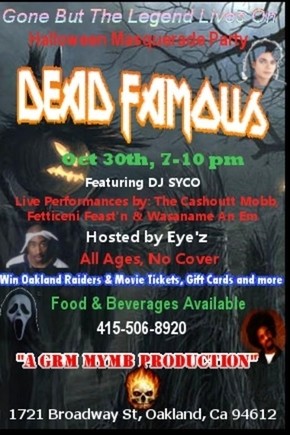 Dead Famous is an event put together by Devon Black with featured artists from the Bay Area including Fettuccine Feast'n – Cash Outt Mob – Sexy Love – Rob Adam Jackson – plus many more hosted by pop singer Eye'z.
The event was a wonderful artist showcase that took place in Oakland, CA with spoken word artists, singers, rappers, and painters. GRM presents will be featuring more artists on more shows and the next event will take place in Oakland, CA on December 30th for a pre NYE party at ONE FAM. For more information contact – grmpresents@ymail.com.
Here is a video for all of those wishing they could have been there!
GRM Presents Dead Famous:
https://www.youtube.com/watch?v=Mq2UiJDlb3s
Follow Eye'z on twitter @eye39z and on Facebook @ Eye'z!
http://TheLovelyEyez.com – "A Diamond In The Rough, A Diamond In The Eye, Its The Crazy One And I'm Not Left Eye!"