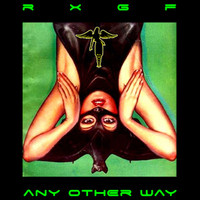 RxGF's third full length release is action packed and positively brimming with indie cool.
"How To Make It":
https://www.youtube.com/watch?v=AQR6urI2z4M#t=48
Listen to the full album Streaming links:
BandCamp: https://rxgf.bandcamp.com/album/any-other-way
SoundCloud: https://soundcloud.com/rxgf/sets/any-other-way-2014
Any Other WayOpening with title track 'Any Other Way', things sound painfully hip from the start, with its sprawling echoes and glacial tone that perfectly matches Angeline Schaaf's darkly gothic vocal that performs all kinds of melodic gymnastics, sweeping from highs to lows in ways that manage to be simultaneously terrifying and thrilling. 'How To Make It' moves in a more clanking, industrial direction, sounding like it was recorded in an abandoned steel pipe factory where the equipment has never been switched off. 'Flesh and Bone' channels the hectic disco tones of Goldfrapp and La Roux, all swirling and sultry, positively begging to be let loose on the dance floor, while 'Tombstone Soiree' manages to pull off a hip indie groove, with its spluttering fuzz bass that adds to the spooky sound. The fantastically titled 'The Dying Grace Of Machines' flails and gyrates all over the place, while 'Flow' has hidden inside it the cutesy metal sensibilities of kawaii Japanese rock outfit Babymetal. Any Other Way is something of an ambitious epic – at 17 tracks long and running at around ninety minues, it's an album that will take some serious commitment to gleam the absolute maximum from everything on offer here.
http://www.radioactivexgirlfriend.com
By Chris Marsh