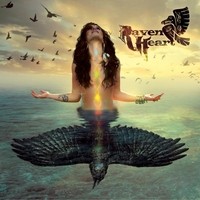 After six arduous weeks of recording, the collaborators were met with a major setback: All twelve "Raven Heart" songs needed to be remixed and re-mastered. The problem was that Rachel Lynn had already scheduled a six-month U.S. tour to promote the album that would not be rescheduled.
The decision was made: Cori Jacobs (Master Fader Studios) took on the remixing project remotely, while Rachel toured the country selling hand-burned CDs of her freshman album, "New Day" and pre-selling "Raven Heart." After nearly two years from start to finish and a few significant personal loans, "Raven Heart" was successfully released, October 4th, 2013.
Straight away it's clear to me the album is an imaginative return to passion filled Hip Hop Pop fused with the better musical touches of today Power Pop, Urban dance and Soulful Singer/Songwriter. But wait – she also delivers a rock edge as well. Sebastian reminds me of Regina Spektor, A Fine Frenzy, Charlotte Martin, Vienna Teng and Natasha Bedingfield. Today music has many people feeling of bit of soullessness – how appropriate I get a CD by an artist as passionate as "Raven Heart" by Sebastian. These 12 tracks are a real jolt to the system – in a good way. The album begins in hooky fashion with the magnificent 'Happy" which is a crisp raid on the senses, laden with hooks and impressive vocal burst from Sebastian. The only surprise is that it wasn't a single, as it is radio friendly of the highest order. "Never Enough" and 'Crazy-Crazy-Crazy" follow and are pleasant journeys through a Pop Passion play of Sebastian's psyche. On "Nothing Human" the harmonies beautifying what could have been a dance number. The title track and "Sunday Night Fever" should both be singles for that matter and are both exceptional pop songs showcasing Sebastian and her band as a moving and grooving. "My Life" has a priceless chorus and an infectious vocal feel. In the end Rachel Lynn Sebastian is a real breath of fresh air and again a shock to everyday musical system presently in place.
In summary "Raven Heart" by Rachel Lynn Sebastian is sure to turn your head and your ears and pretty much delivers everything the title implies, and is in itself a polarizing 12 Track statement from this Oregon native. Out of the whole album, 4 songs are in the category of brilliant, 7 of them are good, and there are only 1 I'd find myself wanting to skip in rotation. I wouldn't be surprised if Sebastian continues to get more popular past Iowa as the summer unwinds.
Rating 8.5/10 Stars
URL: http://www.rachellynnsebastian.com/
PURCHASE LINK: http://www.cdbaby.com/Artist/RachelLynnSebastian
Darla Epstein