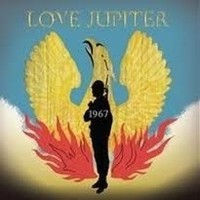 Over the years we've seen rock, pop, and even hard rock slowly erode into over-commercialized, corporate puppet shows providing music that is extremely sing songy, predictable, popish and highly corporate. I hereby call this new breed of music "Poser Rock" and I want to personally thank all the corporate giants for successfully transforming "Sex Drugs & Rock n' Roll" into "Yoga, Vitamins and Nikelback" Of course millions of musical lemmings don't know the difference and trust me when I say not everyone is entertained. Talking to many music fans out there the response is overwhelming. Give me something new, something fresh, and something real.
Love Jupiter are: Band members: Chick Ciulla-vox, guitars, Mark Goetz-guitars, vox, Matt Adamec-bass, Bob DeRienzo-percussion.
So across my desk slides the new 5 songs EP by New York based 4 piece Alternative Rock band Love Jupiter entitled "1967" During my initial research and a first listen to this 5 track offering, there were a few thing I noticed. Their recordings showcase the eclectic songwriting approach: from upbeat, musically-involved pieces to simple, minimalist moody tracks to unusual studio creations all contained therein. These recent recording presents an interesting, melodically-challenging, literate (even uniquely tasteful) collection of songs. It may not be the simplest collection to digest, but its rewards are manifold, and at the center of each piece and every arrangement is an effective, if often cryptic and somewhat moody melodies.
The "1967" EP finds a band like Love Jupiter channeling (rather than being inspired or influenced by) a wide array popular-music-history's critically renowned underground heroes: The Twilight Singers, The Gutter Twin, Buffalo Tom, and Television. What I heard put a smile on my face. It's an impressive snapshot that delivers solid songwriting with a nice alternative rock feel. Lead vocalist Goest is one of the best singers I've heard in quite some time. He really lets loose behind the glass and lets her rip. You will also hear a side of Alternative Rock that is somewhat progressive in nature. If you like the above bands you should definitely check out this EP. My favorite track is probably "Castle". Another notable standout track is "I Can't Touch You.". 1967 EP by Love Jupiter is invigorating. Invigorating in the sense that it will lift your spirits, and give you a sense of hope that rock is not officially pronounced dead yet. This 5 Track EP is a solid release with many solid grooves with a guitar driven sound and entertaining sometimes dark vibe. At the end of the day it's an EP that gives us a fresh glimpse at an amazing artist and takes us back a few years – before everything started sounding like – well like NIKELBACK.
I-TUNES: https://itunes.apple.com/us/album/1967-ep/id881984270
REVERBNATION – http://www.lovejupiter.com/
Buffy Huntington