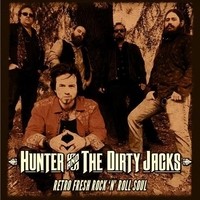 Here's to pouring old wine into new bottles. Hunter & The Dirty Jacks, a Los Angeles based blues-rock outfit, have self-released their full-length debut, Single Barrel, without even a blink of irony. While younger, retro-themed bands in other subgenres are increasingly steering towards sharper moments of outright parody, a unit like this never falls completely out of fashion because of their grounding in solid fundamentals. However, the touch of the individual is what truly distinguishes this band – a reverence for the past that never submerges their intentions as artists and performers.
As a longtime fan of the genre, one thing that leaps out about "Rock & Roll Soul" is the clean, tasteful approach taken with the mix. It runs an inherent risk. You can neuter this music, drain all the feel from it, with a thin, toothless presentation. However, you can also dive headlong into cliché with a grungy, overwrought mix that shows a heavy-handed understanding of the genre. In 2014, a band like this needs balance and "Rock & Roll Soul" demonstrates Hunter & The Dirty Jacks' peerless ability to maintain a good balance. Describing a woman's grin as a "launch code smile" will likely stay with me for some time.
"Jubilee" is one of the album's highlights. The smart production, once again, helps accentuate the band's core strengths. As a vocalist, Hunter Ackerman has great phrasing and strutting front man assurance without ever lapsing into ham-fisted imitation. This quality extends to the fantastic guitar playing that never overplays its hand. Conventional wisdom might say this is three-chord blues simplicity, but discernment is key in playing this music. What Hunter & The Dirty Jacks do not play is more important than what they play. "Salt Whiskey" is another fine track that invokes many of the genre's tropes, but places them within such a personal perspective that it enlivens otherwise stale devices. Ackerman's vocal and Bonaventura's stinging guitar work are highlights.
Some might criticize "Lorraine", perhaps, for trotting out some well-worn clichés, but Hunter & The Dirty Jack revitalizes them with a unique approach that never abandons tradition. Rather than delivering a sleazy blues crawl, as the lyric might demand of a lesser band, this outfit takes a decidedly more nuanced approach with emotive guitar and vocals. Tasty bass playing anchors the riff driving "Gotta Keep Movin' On" and ventures far beyond basic root note timekeeping. Ackerman's vocals are a highlight, but his lyrics are quite sharp without ever wallowing too deeply in stock imagery and phrases.
There's a playfully jazzy lilt to "Leave The Cap Off The Bottle" enriched by another fine lyric and soulful vocal. The musicianship is as superb as ever, but the lead guitar work and bass playing are particularly stinging and help push the song to a satisfying conclusion. Single Barrel closes with the stately "Kennel Howl", an unusual, dark ballad focusing on hard-won victories. The celebration of individuality is far from a new topic in this music, but this imaginative songwriting reaches for places most retro acts ignore. If people tell you the blues is dead or stale, Hunter & The Dirty Jacks will dispel that notion with haste. Single Barrel is a masterful modern reclaiming of roots music for our era.
5/5 Stars
J. Hillenburg