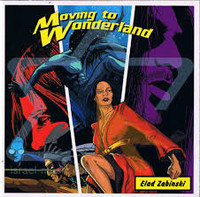 Who doesn't like Singer-Songwriter music? However I'd bet not all hands go up in the air. I mean, while Singer-Songwriter, which by the way kind of emerges in the late 60's and 70's with the arrival of Bob Dylan, Cat Stevens, Elton John and Billy Joel, represented a close and personal artistic snapshot from the artist in question. The music tended to be at times gripping and powerful. Many feel the Singer-Songwriter sound has lost it's way evolving into overly commercialized, highly corporate songs that do a better job at getting under your skin rather than pour into your heart. So having said this Singer-Songwriter might not be your first and foremost musical choice nowadays. Despite this introduction most music fans can't deny getting into a good poppy groove every now and then and really enjoy well written music within this style from time to time. You know bands like: Jack Johnson, Jason Mraz, John Mayer, Bela Fleck and the Flecktones. This latest release by Israel's own Elad Zabinski slid across my desk entitled interestingly enough Moving to Wonderland.
I must admit I yawned expecting the typical Jack Johnson John Mayer music conventions – only to be blown away with what I heard. Moving to Wonderland is exceptional music and multi-dimensional to say the least. The music itself is rather uplifting, interesting and somewhat clairvoyant (in a good way). It also however possesses an undeniable Alternative Rock core breaking the traditional mold for Singer-Songwriter style of music. Does all of this sound a bit over the top to you? Just listen to marquee tracks like the title track, "Nothing is yet Undone" and "Time" and you'll see my perspective. I got hooked on Zabrinski' after reading his bio: "Moving to Wonderland" is an eclectic mixture of sound. This album is a unique journey through Elad's eyes sharing his stories, with captivating lyrics and unique yet simple melodies. Moving to Wonderland CD music contains a single disc with 12 songs. This astonishing singer/songwriter/performer, delivers a truly passionate musical approach that personifies the human experience.
I hate to pigeonhole but if you like Radiohead, Robbie Williams, The National, Rusted Root, to Beck you will like the music of Alad Zabrisnki. I can also hear Tindersticks and Tim Buckley.
The main focus of this genre of music is generally the personality of the artist, here Zabinski wins you over without even trying. The amazing lyrical content never feels like an afterthought. What's more the vocal work and impeccable songwriting from Zabinski really brings it all together. All in all it's a powerful combination that puts a guy like Zabinski on the map for 2014 her in the US and abroad. He should go a long way towards proving that real music and Top Tiered songwriting is still alive and well. His latest release "Moving to Wonderland" is an exceptional 12 song release I just can't recommend enough. Need I say more?
Purchase Link: https://itunes.apple.com/us/album/moving-to-wonderland/id880907009
https://www.facebook.com/Elad.Zabinski
Score: 4/5 Stars
by Melissa Schroeder