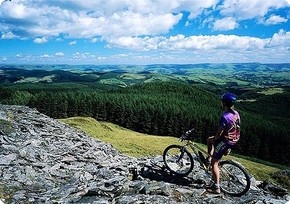 If you haven't taken your bike further off road than your local tow path, you're missing out. The number of mountain bike centres in the UK has risen dramatically in the last decade, leaving you with no excuse not to embrace your inner weekend warrior. Get your mudguards on and get going to one of these fantastic mountain bike centres.
BikePark Wales
BikePark Wales recently celebrated its first birthday, though from its reputation you'd never know it was such a baby. It's in Merthyr Tydfil in South East Wales, handily close to Cwmcarn and Afan Argoed in case you wanted to make a weekend of it. A full time crew take care of the trails, and when you mix that with regular uplifts and a good café, you'll have an awesome time.
7Stanes
Glentress and Innerleithen set the bar for mountain bike centres. Between the sites you can enjoy everything from green trails for beginners to challenging XC routes and thrilling DH routes. Glentress is the largest site with the most facilities. It's close to Innerleithen to easily give you a full weekend of riding in one place.
Cannock Chase
The technicality of the three trails at Cannock means it's not suitable for beginners. There is 24km of singletrack that's maintained by volunteers who work in cooperation with the Forestry commission. There are also some short but fun DH runs at nearby Stile Cop. Facilities include a bike shop with bike hire, a café, and toilets.
Dalby Forest
Sited in the North York Moors National Park, Dalby Forest affords visitors incredible scenery as well as a brilliant time. Experienced riders will love the black XC world cup course. It's just 6.5km long but will take you at least 45 minutes, especially if you do it as a follow on to the 37km red route. There's plenty of singletrack, a café, toilets, and bike washing facilities.
Thetford Forest
What the south east lacks in mountains they more than make up for in singletrack. Thetford is perfect for riders of all abilities from beginners looking to get their bikes properly dirty for the first time, to experienced riders who simply want to stretch their legs.
Revolution
Given its location in Snowdonia National Park, you would expect some decent descents and Revolution delivers with 4.5km of it! It will push even the most experienced DH rider, leaving them with a smile as wide as the dirt ring in their bath will be. Beginners and intermediates should give this one a miss but it's not too far from Coed y Brenin if you fancy a little XC.
Rostrevor
If you weren't a fan of Chain Reaction Cycles before visiting Rostrevor, you'll love them once you leave! The retailer sponsors the best mountain bike centre in Northern Ireland which features a 19km black trail and 27km of red trails, along with two specially built DH trails. An uplift service, café, showers and bike wash mean you'll leave tired, full and happy.
MTB can be a risky pastime, but a specialist cycling solicitor like Carry on Cycling can help if you or your bike is damaged in an accident.