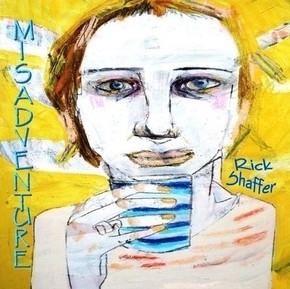 Misadventure marks the fifth solo album by Rick Shaffer and he's back in the garage again, with some of his best songs, performance, and production to date. The ragged edges, room echo, distortion, great hooks, and underlying menace are right in place for some compelling tension and adrenaline drenched garage blues.
"Some Say"
Music: http://www.theredsmusic.com/images/SomeSay.mp3
Video: http://youtu.be/Ex2DOyU5unU
The overall themes concern personal truth's, the cost of blind faith, and the acceptance, not dread, of the sinister undercurrent knocking on your front door.
Skope Reviews Rick Shaffer 'Misadventures'
http://skopemag.com/2014/07/23/rick-shaffer-misadventures
The artwork for Misadventure is by artist, Jill Emery, who has an interesting duel artistic background. Her artwork is a free flowing cathartic mixture of poetic symbolism and spirituality, which comes through beautifully in her amazing paintings. Emery's musical background had her playing bass in the bands, Super Heroines, Hole (her artwork was used for the "Pretty On The Inside" album), Mazzy Star, Shadow Project, and The Decadent. Visit Jill's Etsy store, SallyGotsThe, where you can see/buy her paintings.