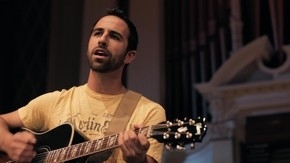 Today My Silent Bravery premieres "On My Side" the second single and video  from its forthcoming album, Diamond From Coal.  Front man Matthew Wade also announced an August tour with Tyler Ward leading up to the album release on August 11th.
Watch – http://www.youtube.com/watch?v=_19VNW1xnK8
The video for the new song, (http://www.youtube.com/watch?v=_19VNW1xnK8) which premiered exclusively at CelebrityCafe.com, was directed by Vassili Shields. It was filmed at Mechanics Hall in Worcester, MA, the same venue that My Silent Bravery recently performed one of their biggest shows to date; sharing the stage with Daughtry and Delta Rae. "On My Side" follows the release of the last MSB video, "Amazing",  which video features Matthew and  MTV's The Challenge Star, Cara Maria, which has over 80,000 views on youtube and was picked up for rotation by MTV.com.
"This video is a more intimate, behind-the-scenes look at what the last couple of years have been like for MSB" started Wade on the topic of the new video. "There are a lot of fans, friends, and family who have been on my side over the years. This video is a tribute to all of them for their continued love and support".
While Wade is well known to have meaningful songs that connect to his audience on a personal level, (something that "On My Side" will no doubt do as well,) the song has already begun to connect on a professional level as well. The song recently earned runner-up status in the songwriting competition, Song of the Year.
Along with the release of the new video, My Silent Bravery also announced a run of tour dates in early August leading up to the Album Release. The group will be hitting the road to promote the new album, single and video touring with Tyler Ward (tour dates below):
August, 4 2014  Philadelphia, PA  Hard Rock Café
August 5, 2014  Washington, DC   Jammin Java
August 6, 2014  Pittsburgh, PA    Altar Bar
August 7, 2014  Columbus, OH     Skully's
August 8, 2014  Akron, OH           Musica
August 9, 2014  Buffalo, NY          Buffalo Iron Works 
Diamond from Coal is the new and fourth LP from MSB , produced by Anthony Resta (Collective Soul, Guster, Shawn Mullins) & Warren Huart (Aerosmith, The Fray, Augustana ) and was recorded in Boston and Los Angeles. The new single "On My Side" was recently remixed by Grammy award winning Mike Mangini (Joss Stone, David Byrne, Smash Mouth) and Peter Zizzo, (Avril Levine, Jennifer Lopez, Jason Mraz) in New York. Diamond from Coal is the follow up to 2011's Can't Quit, the group's most successful record to date, which features a track with Grammy nominated Recording artist Matisyahu. To Give (featuring Matisyahu) was nominated at the Independent Music Awards 2013 for Best Social Action Song. 
www.mysilentbravery.com
www.facebook.com/mysilentbravery
www.twitter.com/mysilentbravery