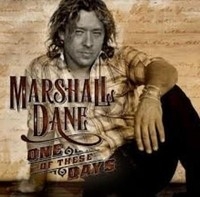 How would one describe Marshall Dane? Dane's voice cuts to the heart of any story, taking you down back roads, through broken lonely hearts, and into hopeful, open skies.    Launched in May 2013, in time for last year's CMAO Awards – for which he was nominated in several categories including Male Artist and Album Of The Year – and featuring the single and title track, "One Of These Days", Canadian Country Artist Marshall Dane's latest album puts life back in to the swing of things, driven by a swirling blast of fabulous melodies that gives you a country rush right from the get-go. His latest effort – "One Of These Days' is about how I deal with the curves life throws," says Marshall. "It's not really about where I've been but more so about where I am now…where I wanna go…and how I'm gonna get there, wherever 'there' is."
While it is true many feel the music industry is in disarray it's always a breath of fresh air to hear a new band or artist that's not afraid to take chances with their musical expression. Dane right away gives off that rugged Americana look many can't get enough of – but he is unique. Add in an acoustic guitar, some muscular arms, a tight T-shirt and powerful song, nice voice, a truthful conviction – well I'm rambling here. I think you get my point. With his latest musical offering "One of These Days" ,it's clear to me Dane has surpassed what many consider to be the a-typical musical release in 2013. From the beginning to end "One of These Days" gives you an amazing soul-searching anthem that captures the funny grit, essence and restless sprit of classic Americana. "One of These Days" delivers a string of compelling songs that will keep you entertained. Also present are messages that are boldly honest, powerful and a vibe that is unmistakably vintage Americana. Dane combines many impressive musical styles: like Blues, R&B, Folk, Americana and Traditional Rock n' Roll popular in the 70's. Digging a bit deeper I can even hear influences from Mo-Town, Saloon Jazz and Old time Soul Rock. Musical comparables for me are Brooks & Dunn, Montgomery Gentry, Joe Diffie, George Strait, and Diamond Rio. Some pieces I really like are "Take You Home to Mama" and the title track with its amazing message, and the barnburner "Alcohol Abuse". This track definitely expands the possibilities for Dane as a possible radio hit in the making. It's obvious playing in bars and clubs as a solo singer and with a touring band – has given him his fair share of stories and insights – great for writing songs. Did I mention he has opened for Alan Jackson and Emerson Drive, played at the 2011 CCMA Awards and toured on his own?  On days off however, he prefers to spend his time out of the bar – in the gym, on his motorcycle, practicing yoga or at home in his apartment "cooking up something scrumptious."  But when it comes to cooking up a tune, Marshall admits there is one source of soul-nourishment that keeps on giving.
The production is top notch and the playing from all other band members just hits the spot. Dance creates a sound that will make virtually any listener feel right at home. As a vocalist Dane delivers a smooth baritone that glides with precision. He's got a good voice and a good look and a great body! On all tracks he delivers an array of impressive harmonies and a clear vocal pitch. Much of this goes beyond traditional playing and songwriting. Dance has a strong X-Factor. You don't have to hear him sing a single not to fall in love with him. Lyrics are also an important component for me whenever I listen and review music. In this aspect Dane paints an impressive travelers story deep between the spoken word with delivers messages of hope, love, love lost lost and gained again.
"One of These Days" by Marshall Dance delivers amazing music for the senses that has no boundaries – very much like America itself. 
URL: http://www.marshalldane.com/
Rating: 5/5 Stars
SOUNDCLOUD: https://soundcloud.com/marshall-dane
Samantha King – Arlington, TX