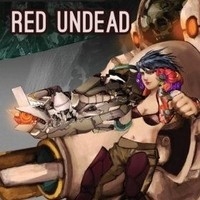 Red Undead is an Alternative Rock band from Mission Viejo, CA. . Influences: Yeah Yeah Yeahs, Franz Ferdinand, The Strokes, Pixies. The band enjoys pizza, Kirin Ichiban, and pirate tales. Mary Yanashima – vocals, Daniel Jun – drums, Thomas Monroe – guitar, Blake Martin -bass.
An original blender of sound mixing bands like White Stripes, Sister Hazel, Gin Blossoms. The Brighter Lights w/a dash of Radiohead and The Swell Season expect a high octane Indie pop-rock trio that fuses rock solid songwriting with soulful harmonies. They touch on all styles, fusing genres with each song like Alternative Rock and Hard Pop. Their latest self-titled offering is a rocking 5 track album that gleefully dances up and down the spectrum of modern-day Alt-Rock with hints of Punk served up hot on the side.
The CD Opens with the finger snapping "Guilty Glance" and pulls out all the stops until the final track "Backstab Bilgerats" The album as a whole pretty much hits on all cylinders. Red Undead is an eclectic mixture of many different styles of music and covers a lot of ground. The music and vocal presence of Yanashima present the perfect musical backdrop for just sitting back and jamming out or playing in the car for a long drive. While each track is similar within their own right, all pieces on this short but sweet set deliver unique, emotionally charged musical experiences that will satisfy any aficionado. Of particular note are the explosive, bi-polar vocals provided by Yanashima. Did I mention she also plays guitar. If she just so happened to write these songs – well she could be bigger than any of us realize right now. Yanashima commands an appealing voice via solid musical performances within her own right, all the while retaining a masculine/feminine fullness that compliments the skillful array of sounds brought forward by the rest of the band. Though I could be wrong I suspect their musical influences here are as follows: Liz Phair, White Stripes, Sister Hazel, Gin Blossoms (on steroids), The Ready Set, He is We, The Brighter Lights. Tracks that stand out for me are the final 3 of the 6: Because of You, Lieutenant James, and Back on my Feet Again. All tracks are "wow" good! EP Is wow good!
To sum it up: I give the Red Undead an enthusiastic four out of five stars and highly recommend this EP/album to any fan of hard punk rock. Grab yourself a copy and kick up your heels to some solid melodic and catchy as hell songwriting that really stays with you log after the EP' runs its course.  I may never get the chorus of "Cowards" out of my head. All jokes aside – Red Undead sets a standard for the genre, and should be a big hit this Summer.
URL/REVERBNATION: http://www.reverbnation.com/redundead
Locale: Mission Viejo, CA
Sounds Like: White Stripes, Sister Hazel, Gin Blossoms (on steroids), The Ready Set, He is We, The Brighter Lights
Purchase Link: http://www.amazon.com/Stories-Red-Undead/dp/B00JLJ95RA/
Final Rating: 4/5 Stars
Review by Devin Smith edited by Joshua Beach
Review comments: joshuabeach9@gmail.com