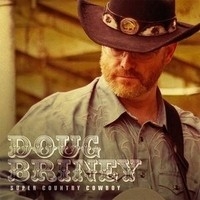 So across my desk slides the new 9 track CD from Doug Briney entitled Super Country Cowboy. Now that's a bold yet confident title if I ever heard one. During my initial research of Briney there were a few lines from his bio that I really liked: Doug Briney embodies all things country: His personality is warm and inviting, some would say down-to-earth, recalling the disposition of many a Southern Gentleman from yesteryear. With a 2013 Independent Country Music Association Award, eight months on the Roots Music Report charts, international airplay and live performances at Rodeo Alaska, The Iditarod, The Grinder's Switch Hour, Alaska State Fair, and Dan McGuiness' on Music Row, among countless others, this God-fearing road warrior, with the warm baritone voice and love for all things southern, is ready to release his second album project, aptly titled Super Country Cowboy. Let' dig in!
Super Country Cowboy finds a guy like Briney finding a comfortable middle ground between the more tender musings of melodic Pop to rough and tumble Country. My first impression of Briney is he's primarily a Gospel based singer-songwriter who puts as much energy into his guitar playing/vocal appeal as he does his songwriting. His empowering style of Country-Rock-Gospel likened to David Gray jamming with Ryan Adams, and John Denver having a back porch picking session with Elvis. The guitar style lays the foundation for insightful lyrics often derived from the way he transfers his life experiences to us. This is the quintessential element to singer/songwriter/folk that people love. Briney adds his own voice to those of his influences, creating an engaging combination of passion and presence mixed with tales that have a ring of truth to them. As I spun the CD what I heard put a smile on my face. It's a nice easy flowing record that delivers solid songwriting with a nice country-rock feel to it.
Briney reminds me of Lonestar, Chris Cagle, Tracy Byrd, Luke Bryan and Zac Brown Band all rolled up into one. However you will also hear a side of Spiritual-Gospel even rock/folk along the musical path. If you like the above bands and musical styles you should definitely check out this CD via above link. My favorite tracks are probably: Pretty Big Deal, Eugene Fuguay, The Choice' you Make.  
Briney's latest release: Super Country Cowboy is a delightful release with many feel good grooves with amazing highs and some powerful lows. Briney shares a fresh glimpse at an amazing artist and takes us back a few years – before everything started sounding like – well like everything else.
Official URL: http://www.dougbriney.com/
Grade: 7.5/10
Leslie Aureli edited by Janne Zawa
Review comments: jannezawa@gmail.com