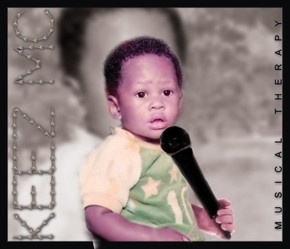 From Brooklyn to the Bronx, New York native KeezMC was practically born   hiphop. With a new album "Musical Therapy" and a handful of singles, it's only a matter of time before we all start hearing the name, so get used to it. Ladies and gentlemen, Skope proudly introduces KeezMC.
Skope: First off, tell us a little about your new album "Musical Therapy". What's it about?
KeezMC: It's about using my music as therapy to express myself.
"I'm On With It"
http://www.youtube.com/watch?v=-VhBYGXT-W8
Skope: I hear alot of old school East Coast beats on your tracks, what producers are you working with on the album?
KeezMC: Just one, Montona Productions.
Skope: I read you were born in Brooklyn, NY and now reside in the Bronx. Are the scenes any different between the burroughs as far as hiphop goes?
KeezMC: Sometimes, Harlem is more flashy and the Bronx is more grimey and more underground but now the whole New York scene changed.
Skope: Who are some of your biggest influences growing up hiphop? Is there any one particular artist that made you want to get into the game?
KeezMC: Heavy D but my main artists now are Nas, and krs-one other influences are Talib Kweli,Common,and more.
Skope: Do you perform outside of NY? Any touring plans to promote the album?
KeezMC: We're trying to get some things going now 'cause one of my videos is being played on MTV.com and MTV Jamz so that's one way I am being promoted and also out in Japan.
Skope: What are some of your favorite venues to perform?
KeezMC: Webster Hall, Karma Lounge.
Skope: Your video for the single "Thank You [GrandParents]" is getting some play  http://youtu.be/7Q771JYVOJw To those who haven't seen/heard it, what's that track about? What role did your grandparents have in your life?
KeezMC: Its about my grand parents and they played a very big part in my life.
Skope: You've also got a new single "I'm On It" that people can view on your site http://keezmc.com. What can you tell us about that song?
KeezMC: It's doing good and can be seen on youtube and MTV.com and MTV Jamz.
Skope: I heard in the lyrics that you do battles? What's the rap battle scene like in the Bronx?
KeezMC: Believe it or not it's not that crazy because most New York artists are trying to do south music.
Skope: Where can people purchase "Musical Therapy"?
KeezMC: On itunes and http://keezmc.com
https://itunes.apple.com/us/artist/keez-mc/id479778012
Skope: What's next for KeezMC?
KeezMC: Trying to get more paid shows and trying to set up a tour for Japan.
To check out some real talk with a dash of that classic 90's sound, make sure you take a listen to KeezMC's new album "Musical Therapy" and visit www.keezmc.com.
Douglas Garnett – douglas.garnett@gmail.com