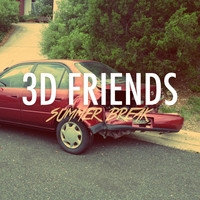 With warm summery vibes, it's hard not to notice similarities between 3D Friends and bands such as Summer Camp and Attic Lights.
'All Right' is a breezy three minute pop song filled with uplifting vocals and scattered with electronic elements that furnish the neat indie songwriting.
'Just Wanna Hold You' is a sweet ditty, with a toasty warm bassline and glassy falsetto vocals that come into their own at the track's mid-point, painting a picture of frolicking in the fields, free and without worries.
3d Friends, Summer Break EP
https://soundcloud.com/3dfriends/sets/summer-break-ep
'Dark Land' couples a tight drum track with joyous doubled vocals, while 'If You're Interested' uses steel-drum sounds and synth swells to create a woozy, shoegaze track that fits well in the chillwave category – at points it even sounds a little like the Rainbow Road level on Mario Kart 64…
Closing with 'Out Of Your Way', 3D Friends' Summer Break EP reaches its conclusion with all the hallmarks of the band that have been presented throughout the record – skittering drums, glacial guitars, and hints of synth elements that create a tableau of warmth as the track draws to its end and brings the music to its end.
http://www.reverbnation.com/3dfriends
By Chris Marsh