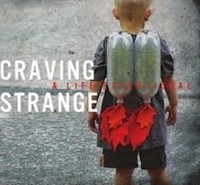 The Life Exceptional   is the latest release from 4 piece band Craving Strange based out of NY, and was released in 2012. I would describe Craving Strange as one of the more bluesy, darker, denser, straight forward Alt-Rock band out there right now. They have a rocked out vibe and hooky songs, and from what I've read an amazing live presentation. The result is pounding drums, guitar riffs that light up the dark night sky, and vocals/songs that will rip a hole through your chest. Craving Strange tell a story that you will understand and enjoy to the fullest. Band members include: Jimmy G (vocals, guitar), Matt Abbate (Lead Guitar), Jim Tassone (Drums/Percussion), Tommy Balls (Bass). Now getting to the album: "The Life Exceptional 13 track CD has much to commend it. Admittedly, there is a whole lot of variety to these arrangements and performances. First: The impressive 4 piece band delivers rock solid playing like a well oiled machine. Second: Vocalist/Guitarist Jimmy G. hits the mark remarkably well within the context of this catalogue. He's got great vocal skill set. Third: their sound and amazing songwriting touch is action packed. In fact one could classify Craving Strange   as a four genera artist Classic Rock, Hair Metal, Hard Rock, and even a dash of Soul and Blues. All songs are a skillful combination of all the aforementioned genera's. Music will remind you of Jon Foreman, Kutess, Hawk Nelson and Falling Up even Temple of the Dog. I can even here Skid Row, Britny Fox, Slaughter and Kix. Craving Strange have the power and songwriting prowess to be extremely dangerous. Add in a killer live set makes this a deadly combination no doubt. There's also a unique quality to this catalogue that breaks the mold when compared to the overly predictable, forgetful rock that's been filling the airwaves lately. What am I trying to say — well let me start by saying there is nothing predictable and forgetful about Craving Strange. Whether live or in the studio Craving Strange is one of the hottest vintage rock bands out there right now. Not every square inch is filled with musical ambience delivered under duress — but musical space this allows the music to breathe on its own with passion that cannot be faked.
Even though   they have effectively found the voice for all frustrated Hard-Rocker out there — their sound is a bit over the top and dated reminiscent of music in the 80's and late 90's. CD only has 10 tracks absent the 2 bonus tracks and the clean version (re-maike) of "Your Last Day Alive. CD needs 3-4 more tracks on it.
CD: Musical Genera: Alternative Rock, Rock, Blues
URL – http://cravingstrange.net/
This 13 track "The Life Exceptional "covers so much ground and despite this it manages to not spread itself to thin across to many lines — nicely done! This is harder to do than it sounds and can only be a by product of being ones self musically. I've always said if you can play it a party, then it's marketable. Depending on the party: Craving Strange is extremely marketable – with a raw sound that is passionate and entertaining very much like the band itself.
Purchase Link: http://www.cdbaby.com/cd/cravingstrange5
Overall Rating: 4/5
By Richard Banton, edited by Heather Savage
Review comments: heathersavage5@gmail.com