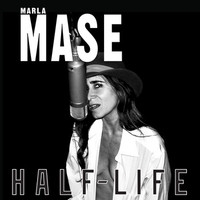 Marla Mase has gained a huge new fan in me, after listening to her latest release, Half-Life. She has quite an impressive career and extremely unique sound. Marla is a gutsy woman with no fear; a powerful triple threat. With that much talent it is interesting to hear her sample a little bit of everything within each tune.
Mase is thought provoking and mesmerizing as she entices you into her big wide world. She had a successful tour in China and Europe spreading a message of love that sometimes brings frustration. I have not seen or heard someone as fearless since Liz Phair. She tells it like it is and leaves you powerless as she opens your mind to a few new suggestions. She is straight forward, what you see is what you get, take it or leave it. I'm not sure she would be very apologetic if you chose to leave it; your loss, not hers.
It is a compilation of poetry, music and emotion. Her vibe is simplistic in a complicated way, free style performance art at its very best. There are groovy little ditties, poetic stories and heart felt sentiments all backed by amazing instrumentation that brings each story to life.
What can be said about Marla Mase that I have not said already? I'm loving this CD, Half-Life. She put in her full force of effort and created a musingly little master piece. Straight from her psyche to yours she's pulling those strings and provoking thoughts that matter. Join in on the journey and be ready to be amazed.
Bandcamp: http://marlamase.bandcamp.com/album/half-life
I rate this 5 out 5
Rebecca Hosking – hoskingrebecca@gmail.com