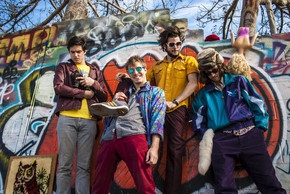 Check out Bubonik Funk from Charlotte, NC and their new single, "Ghost Child" – available for stream and download! Think of The Red Hot Chili Peppers, meets Jimi Hendrix with a dash of Sublime to get an idea of what these guys sound like.
https://soundcloud.com/ei-pr-1/bubonik-funk-ghost-child
Bubonik Funk is an original Soul/Rock band from Charlotte, North Carolina that specializes in energetic funky performance and groove musicality. Taking inspiration from groups as varied as Funkadelic, D'angelo, Radiohead, Led Zeppelin and the Talking Heads, this group has pushed their blend of funk music for nearly seven years with an unchanged lineup of Stefan Kallander (Guitar, vocals), Dylan Ellett (Vocals, keys), Nick Mcowen (Bass, synth) and Daniel Allison (Drums, vocals).