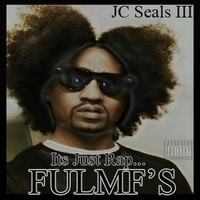 JC Seals III is not the average rapper. In fact he is not even a rapper. He is just a regular person that can rap. And you can tell by his lyrics. If you know JC and you hear his music you know he means every word. A man of few words so peep what he has to say. Other production notables Lou Hef, Kison, B-Easy of MVP Gang, Seals The Deal Productions.
BANDCAMP Link: http://jcsealsiii.bandcamp.com/
The CD kicks things off with finger snapping "Intro" a prelude of sorts that's set's the stage rather well sending you head first into Track 2 "It's Just Rap" with its methodical   musical build, apocalyptic groove, impressive rhymes and striking musical flow. Track 3 "She Said Yes" hits hard with no holes barred rap delivery from Seals that dishes out a melodic yet hypnotic rap groove with well placed harmonies, solid low end vibe against a grand slam chorus. Track 4 "Bad Girl" gets in your face and doesn't back down with infectious rap flow and impressive sonic accents. As this CD slowly unfolds I can hear many rap influences reminiscent of classic Cypress Hill, Bone Thugs in Harmony, Geto Boyz, ASAP Rocky, Kendrick Lamar, Big K.R.I.T., Tyler the Creator, Futur and even Crooked I. Along the way you can't help but notice a lot of impressive musical soundscapes layered in the music. The mixing is effective and very marketable packed to the hilt with things like impressive sound effects, well placed keyboard and synthesizer accents, percussive elements, and top tiered sampling and beats that make their point.   The beats are thick as a brick providing solid low end punch and impressive high end clarity. You will find everything from clever rhymes, addictive melodies, lyrics that are thought provoking and rap flows that are masterful. Now turning out attention to JC Seals he is a marquee talent and should be treated as such. The thing I like the most about his vocal performances is how well Seals handles himself within each song. Equally as impressive is his X-Factor as he dabbles in several menacing alter egos within each piece. From invigorating "RBA" to hypnotic "Good Time Interrupted" to melodic "Feels So Good" and "Angela Yee" to mesmerizing "Vibe With Me" and "Waitin" this CD has something for just about everyone. The CD ends with "FULMF'S" and "Outro" to passionate "Dreams Do Come True" to thought provoking "Am I Dreaming" the perfect finale statement for a CD of this caliber. My top tracks are: It's Just Rap/FULMF'S, You Better Believe It, She Said Yes, RBA, Am I Dreaming, Runnin,
All songs over 4 minutes tend to drag you to the finish line. All songs under 3 minutes feel like incomplete statements to me. JC Seals needs to showcase more melodic singing abilities and talent when the time is right on some of his songs. Come-on let's hear those pipes bro! I also with there we're 3 or 4 more really hard pieces on the CD — you know REALLY HARD! Runnin get's kind of close.
Song for song, pound for pound It's Just Rap from JC Seals III this is a rock solid CD. Like a heavy weight fighter this CD goes the full 12 rounds and never lets its guard down. It has everything from raw intensify, clever lyrics, to songs that are well crafted that hold your attention span perfectly. As a whole this CD possesses allot of variety and musical versatility. It delivers the typical in your face urban swagger you would expect from a top flight rap release but what's more impressive is the strong production value, infectious rap grooves and arsenal of rappers Seals brings to the table. (Kison, Lou Hef, B-Easy, MVP Gang). I see JC Seals III as a diamond in the rough or undiscovered talent down in Houston. I look forward to hearing more from him as his career takes of hopefully this Summer! It's been a long time coming.
FACEBOOK : https://www.facebook.com/pages/JC-Seals-III/126795340976
Score: 3.5/5 Stars
by Cyrus Rhodes edited by Heather Savage
Review Comments: rhodesm@wavecable.com