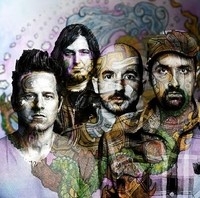 There's a real sense of cathartic musical independence here via this latest work from Baltimore based musical four-some Sons of the Radio lead by front man Matt Gomez. While everything here on this latest CD is shall I say exceptionally entertaining it also manages to cover a pretty wide range of musical styles as well. This is their second release to date.
URL: https://www.facebook.com/sonsoftheradio
When you listen to the music of S.O.T.R. you know the future of melodic alt-rock shines blindingly bright. It's easy to hear possible influences of Joseph Arthur, Beach House, MGMT Wilco and Gram Parsons in their music, but the real magic is how they blend all these ingredients into a musical recipe that is the vintage S.O.T.R. signature sound. S.O.T.R. encompasses the rich history of Hard Rock but also Americana Blues Roots, then broadens and reshapes it into something somewhat youthful, reckless and out of control and slightly sexualized. All this and more make S.O.T.R. refreshing and uniquely brilliant. A few tracks notably stand out for me in particular. "Melodramatic Yellow" and "Dreams in the Rain" are 2 very strong tracks that deliver pure grooved magic and impressive writers touch. These two movements are also polarizing to each other and show a lot of depth from these guys. Much of the 12 track CD presents straight forward Alternative Rock that is like I said before — a bit out of control and include a slightly sexualized overtone like on "Lady Conundrum" and "A Love Song (for Lovers)." Despite this somehow the music has more of an organic bluesy feel as the album hits the deck running. These cats are definitely a modern example of classic psychedelic-alternative folk rock popular in the 70's, 80's and 90's. I can hear acts like X, No Doubt, Y&T, and Dog Fashion Disco. But I can also hear an underlying life's passion theme.   I suspect many of the previously mentioned bands have had an influence.
The musicianship from band members: Mike Sullivan (solo guitar) Tom Kravulski (bass), Jimmy Herberson (Drums), Matt Gomez (vocals) respectively is how shall I say, off the chain. The vocal front from Gomez is equally gravitating. He reminds me of Journey's Steve Perry on steroids. Another highlight for me is "Premonition" which exemplifies the S.O.T.R. attitude and sound to a T. It's got plenty of cool guitar riffing, bass playing that sits deep in the pocket but above all it shows just how far these cats masterfully navigate with sheer precision lyrically through this simplistic yet amazing writing style. All members demonstrate their individual musical talents and abilities as well without being too over the top about it. This is harder to do then it sounds. Some bands come across as being too simplistic.
So are you thinking what I'm thinking? Somehow all the above is not compatible with the superficial musical times we live in? S.O.T.R. is well-suited for wide audiences that enjoy frenzious Alternative Rock with a poetic flair, amazing writing and a grand slam live show. There are even elements of Rock and Indie College Rock here as well. Expect great things from S.O.T.R. as their fanbase explodes past Maryland this Summer. I believe there's a detached and disgruntled audience just waiting for them to arrive.
Score: 4/5 stars
Julie Coates edited by Janne Zawa.
Review comments: jannezawa@gmail.com