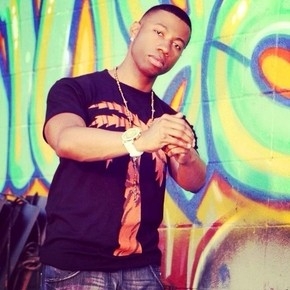 This black history month we are concluding by introducing Matt U Johnson who considers himself a Pop island artist, originally from Staten Island, New York. By living throughout the world Matt feels that his style of music has an eclectic sound with a message!
He got his stage name from his Jamaican grandmother, Isolyn McDonald who pronounced it as Matt Chu!   As a result he went with Matt U and added his surname, hence Matt U Johnson.
His music has many different international flavors from the variety of musical influences that have inspired him. Artists such as   Bob Marley, Backstreet Boys, Snow, Shaggy, Justin Timberlake, Usher, Sean Paul, Sting and the list goes on.
Matt U Johnson – "My Life"
http://k007.kiwi6.com/hotlink/d4xghy7br7/Matt_U_-_My_Life_Radio_Edit_.mp3
The current release My Life is one of the singles on his EP Never Give Up. This is based on him growing up with music and the dream and vision of one day being an established major recording artist. In addition Matt U continues to give inspiration to others in order to pursue their dream and never give up no matter what. Now this particular recording process was very interesting because it gave him a chance to operate in a variety of studios and travel from the east coast to the west coast. The concept behind Matt U's choice of producers was to keep the project international and hyped.   As a result he has an Asian, an American and European producer.   However his main producer hails from Sweden, Stefan Dj Nova Martensson, who has worked with Max Martin.
This EP from what we've heard is a futuristic masterpiece. A fusion of reggae, pop and EDM all rolled into one.
The EP has been receiving lots of positive attention from Sweden, Germany, England, and most recently the Netherlands.   Being that he lived and attended school in Europe for a few years, has caused him to develop a special place in his heart for Europe. Therefore he wishes to do more live shows and business over there. Matt knows that a quality production like this takes a team effort. Therefore he wishes to give special mention to Solemly Productions, Cirious David and Team Matt U Johnson.
Matt has met several celebrities along his musical journey. Artists such   Iyaz, Rasco p, Snoop Dogg Lion, Wyclef, Buju Banton, I Wayne, Mann, Steel Pulse, Foxy Brown, Alex Baldwin, Verdine White from Earth Wind and Fire, Ashford and Simpson. One of his most memorable performances thus far was interacting with the audience as he opened up for Buju Banton at the George Theatre in his hometown, Staten Island.
When asked   what's next for this artist on the rise his response was quick but humble stating that he and his team were mainly concentrating on the EP release and him as not only   an artist but also a brand.
You can find more about Matt U Johnson on all social media such as facebook, twitter, Reverbnation and itunes. His official website is simply www.mattujohnsonlive.com
by LA Virgil-Maldonado, MBA – www.hismultimediaintl.com – lavirgil2010@gmail.com