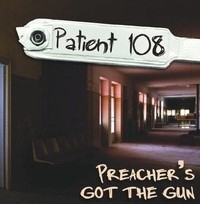 Over the years we've seen rock, pop, and even hard rock slowly erode into over-commercialized, corporate puppet shows providing music that is extremely sing songy, predictable, popish and highly corporate. I hereby call this new breed of music "Poser Rock" and I want to personally thank all the corporate giants for successfully transforming "Sex Drugs & Rock n' Roll" into "Yoga, Vitamins and Nikelback" Of course millions of musical lemmings don't know the difference and trust me when I say   not everyone is entertained. Talking to many music fans out there the response is overwhelming. Give me something new, something fresh, something real.
Official URL: http://Facebook.com/patient108
So as luck would have it across my desk slides the new EP by a band from Spain called "Preacher's Got The Gun" a band that hails from Madrid. Their recordings showcase the eclectic songwriting approach: from brooding, musically-involved pieces to simple, minimalist and dark tracks to unusual studio creations all contained therein, recent recordings presents an interesting, melodically-challenging, literate (even uniquely tasteful) collection of hard rock songs. It may not be the simplest collection to digest, but its rewards are manifold, and at the center of each piece and every arrangement is an effective, if often simple, melody. Theses recordings find a band like Patient 108   channeling (rather than being inspired or influenced by) a wide array popular-music-history's critically renowned underground heroes like Deftones, Black Label Society, Bush, Paw and Mastodon. Basically – what I heard put a smile on my face. It's a nice easy flowing record that delivers solid songwriting with a nice rocking feel. Patient 108 also reminds me of Mad Season, Days of the New, Wellwater Conspracy, Mudhoney and a   classic Seattle grunge sound reminiscent of Soundgarden. You will also hear a side of Alternative Rock, and even straight up Hard Rock along the way. If you like the above bands you should definitely check out this EP.
My favorite track is probably "Right Gun" and "Child of War"
This 5 song EP from Patient 108 is invigorating. Invigorating in the sense that it will lift your spirits, and give you a sense of hope that real rock music is not officially dead yet. This EP is a solid release with many solid grooves with a guitar driven sound and entertaining vibe. Patient 108 is one of those bands that will gives you a fresh glimpse of what Rock music is supposed to sound like and takes us back a few years — before everything started sounding like — well like everything else. Whew that felt good to say!
4/5 Stars
Joshua Turk edited by Mindy McCall
Review Comments: indiemindymccall@gmail.com