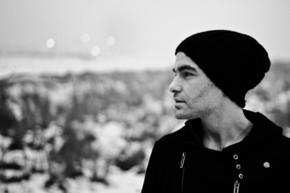 Hello world, I hope that you are all having a good week. Who says that it is all doom & gloom in Europe these days?! Recorded music revenues in Italy increased last year for the first time since 2002. Figures published by Deloitte for FIMI, the organisation that represents the Italian recording industry, reveal revenues increased by 4 per cent in 2013 to €117.6 million. People need music in good times & bad. I am always excited when I hear about new ways for musicians to fund their projects. At http://Soundmatch.com, the goal is to promote artists' music by using "micropatronage" or crowdfunding to finance album production, local concerts, video clips, "Tour Buses" and — why not? — international tours. Soundmatch.com believes in talent and entertainment, and in the major changes the industry is now going through. I could not agree more, you should log on. Now lets get to the music of Michal Rudas. Michal is an incredibly passionate, diverse, and talented musician. Michal's music is deeply influenced by the Indian music that he has learned throughout the years. His album 'Changing' is out now and we go to talk with Michal about growing up in Poland, how trips to India have influenced his sound, the 2014 Sochi Winter Olympics, and much more!
Stoli: Where are we talking from today and how has 2014 been going for you so far?
Hello from Warsaw — the capital of Poland! Here we have real winter now. 2014 has been going very well so far, much better than 2013. I feel it's going to be a good, fruitful year :)
Stoli: You have been doing music all your life. How did you know that you had a passion & talent for music and when did you see it as more than a hobby?
I've been singing as long as I can remember. I've got first home recordings, made by my father when I was only 5 :) That time everybody could hear that I had a talent for music. I started my first performances in a kindergarten. I do remeber that! When I was singing, I made all the mothers and teachers cry, he he!
But I started treating music more seriously much later, since I was 15.
I met a first guide on my musical path – harmonica player and vocalist Beata Kossowska who was my singing teacher. Not only she taught me how to sing properly, but also made me more sensitive to music, developed my imagination and opened me to the beauty of improvisation. When I was 19, I started earning the first money on music and soon discovered that music is not only my hobby but my life path.
Stoli: Give us some insight into how it was growing up in Poland and how music plays into everyday life there?
I was born in 1981 when Poland was still a comunistic country under control of Soviet Union (Russia today). In early 80's there was almost nothing on shops' shelves and people (as well as my mom and me) had to queue for many hours to buy something to eat. Just in the middle of my childhood, in 1990 poles experiened political transformation. Since then Poland has been a democratic country. We are still transforming into a real capitalistic country but nowadays life conditions in Poland don't change much from the other more developed western Europe countries.
"Changing" promo mix:   https://www.youtube.com/watch?v=E37L-5g4sH0
My childhood in Poland was very good. Though we couldn't afford expensive things and there were not so many opportunities as now, I felt I had everything I needed.
Music world was and still is very vivid in Poland and has always been important part of life in polish culture. However it is not easy to make and promote music in Poland. It's still a small market with rather little money on production of albums, videoclips, concerts as well as promotion and with low album sale. If you don't play easy pop hits or disco, it's hard to have your songs on airplay on the main radio stations or on TV. But thanks to developing internet, alternative scene has more opportunities for promotion now and artists start dealing themselves with their carrier, even without a help of big labels. Paradoxically, some artists, who play jazz or alternative music sometimes sell more albums and play more concerts with big audience, than those young top polish stars – celebrities, whose songs you can listen on the radio or on TV. And though there are still very few high level artists, who live well with their music, the situation in polish market is slowly getting better.
Stoli: Your trips to India have heavily influenced your sound. Please tell us what it was about your trips that transcended into your music?
India is for me like my second home, which I discovered in 2005. I had dreamed many years of going there and finally I managed to do that. Almost every year, since 2005, I spent there 1-2 months learning classical north-indian singing (hindustani raga) from my master – Anup Misra – a great singer and professor at Sanskrit University of Varanasi. Apart from learning music, I travelled a lot and got to know some great and inspiring people, saw beautiful places, experienced some important spiritual moments, tasted incredible food, smelled ubelievable smells. I've just fallen in love with India and probably you can hear it in my music :)
Stoli: You released your second album in November, 2013. How long were you writing & recording this collection of music and what can we expect to hear?
Maybe I will tell you a short story of making the album. It all started in the end of 2010. To find a concept and inspiration for this album I needed to travel a bit. I went to India for two months, where I practised meditation and classical, hindustani singing and then a few months later I moved to London for a half year. London music scene was really inspiring mainly in the field of fusion music. In the beginning I wanted to find a producer and make this album there but finally after half year I came back to Poland and start working on the music with Marcin Swiderski — multi-instrumentalist, composer and producer. I'm really grateful to God, that He put Marcin on my life path. It turned out that I didn't have to leave for London to have a chance to record "the album of my dreams", because it was Poland that gave birth to the artist , with whom I found mutual music language and fulfilled my musical dreams.
We accomplished the whole album (including mastering that was made in Loud Mastering Studio in UK) within one year, which in my experience is quite a short period.
Music on this album is a bridge between West and East. It is world music with pop/soul elements and lots of indian spices (indian instruments and my singing with indian ornamentation, mostly in english, but some lyrics in hindi and sanskrit) but also with some elements of flamenco (flamenco guitar, cajon) and a little bit of slavic, folk music – typical for my motherland. Everything is set in chillout, ambient space. I think this album is a perfect choice for people who look for contemplation in the field of heart and spirit or just want to listen new things and like musical experiments.
Buy: http://www.cdbaby.com/cd/michalrudas
Stoli: When releasing a huge project like a new album, do you ever get nervous on how the music will be received by fans and critics?
Yes, I do get nervous a little bit. I had so much stress last year when releasing "Changing". I debuted as a label and had to care about everything (including promotion) myself. But I don't get too much nervous on how the music will be received by fans and critics. I know that people have different preferences and I don't expect everybody to like my music. However I do care if people like my music or not, finally I don't do it only for me.
Stoli: I really love the album art to the album. Who came up with the concept and give us some background on the imagery?
That was Prot HaÅ'adaj — the designer of the cover and the album booklet who came up with this concept. Then we developed it together. Actually this front page image shows perfectly the message and the style of the music, I think. It might link with the image of hindu diety, dancing Shiva, named Nataraja, who performs his cosmic dance to destroy a weary universe and make preparations for the god Brahma to start the process of creation. That's how I understand the process of changing ("Changing" – the title of my album). If you really want to change something you must let some things die to give space for the new things to be born and rise.
Stoli: I love your song "Don't Leave Me." What inspired you to write that song and is that based on real life?
"Don't leave" is a very special song, co-composed with Konrad BiliÅ"ski in 2011. This is available as a single, you can't find it on any of my albums.
The lyrics (written myself) was influenced by some memories and strong feelings from my previous love relationship as well as by some imaginary events. When I create I usually I get inspired by my past experienced as well as my imagination.
Stoli: You have your social media down very well. How crucial is social media and do you find it helps keep old & reach new fans?
Thank you :) Well, it takes some time and energy to run all these music and social profiles… Nowadays social media is very important for the promotion of music, because it is the second life of millions of people. If you want people to get interested in what you do, you must look for them and follow them.
I think it helps to keep old and reach new fans. It is not an easy work, especially when you try to reach new people in other countries. However, after 3 years of regular social media running, I can see that it really pays off.
Stoli: When you listen to music what do you use such as smart phone, Pandora, Youtube, radio, etc?
I'm still a bit traditional and I buy CD and listen to it mostly while driving or at home, but of course I use internet and listen to music on my computer, especially on Youtube and Spotify. I do listen to music on my smartfon very rarely, I use it mostly to record some tunes :)
Stoli: The winter Olympics will be in February. Besides the sporting aspect how important is it to show the world come together and celebarte 2 weeks of diversity & unity in Sochi, Russia?
I'm not really interested in sport and olimpics, even when Poland was the host country of Euro 2012, I wasn't emotionally engaged in this event. However this year winter olimpics is very controversial and I think that the fact it takes place in Russia is a political issue, negotiated by Putin, who wants to show the whole world Russia is a strong country.
Stoli: What is coming up for Michal Rudas and where you @ online?
I'm currently working on my next album and rehearsing for the premiere of the new show "Musicalove" in Rampa Theatre in Warsaw. I'm going to sing many beautiful musical songs :)
www.michalrudas.com
www.facebook.com/michalrudasofficial
www.twitter.com/MichalRudas