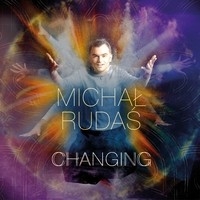 Polish artist and songwriter Michal Rudas is something of an enigma. The type of music is anything but typical of today's disposable pop. Filled with soaring baritone vocals and Indian [India, the country] melodies infused with soothing new age and electronica world music is only a vague way to describe it Michal's music. His 2nd album "Changing" combines English, Polish and Hindi and Sanskrit languages to an already richly developed and layered album.
Be Free begins as an excursion in meditation, the words 'be free' floating repetitively throughout the track. The song ends with a breathing exercise.
I Never Walk Alone is is a journey through the jungle, flute melodies abound in this richly woven chant, then it morphs slowly into a sort of NIN inspired electronica chorus.
"Changing" promo mix:   https://www.youtube.com/watch?v=E37L-5g4sH0
Next is You Are, an acoustic guitar song in the more traditional Western style of folk balladry. It even brings in a South American finger-style funkiness. This song, for all it's simplicity, brings in many genres together.
Meri Jaan begins with steel drums lightly marching into a delightfully delayed guitar pattern with an alt country vibe, but slowed way down. The lyrics are in Hindi, bonus points for that. The melody is pretty universal. Slavic Soul gently brings in some dark ambience and piano before Michal's melodic and soothing voice takes control of the song.
SaPaMa follows a similar style, it has a much wearied traveler through the desert feel with some strong vocal melodies, typical of much of the album. Waiting For The Angels is a deep bass meditation. The strong Indian influences shine brightly on every aspect of the song.
I Need Love starts with a baritone chant "OM" and lots of psychedelic sounds intertwining before settling into a smooth deep groove. Most of this album will feel very foreign to those of us in the West. It's not often we hear this type of music, unless someone like Sting brings it into the Billboard charts, or acts like M.I.A. Though it might take a few listens to 'get it', the journey is rewarding and spiritual in a way.
Let The Flame Burn is truly folk in nature, even reminding me of some of the mellower moments of Led Zeppelin and flows into Forest Lullaby, a contemplative Middleastern hum with sitar [I'm assuming] and birds singing in the background. Clearly spiritual in nature, it's definitely not going to be played in Hot Topics across the United States… however, if you're in the mood for some deep thinking or relaxation, Michal's voice is perfect.
Douglas Garnett – douglas.garnett@gmail.com