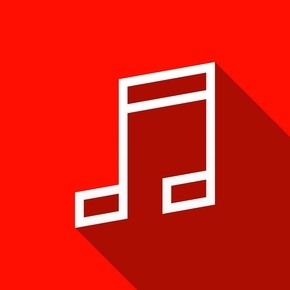 PhD and musician partners announce the launch of the LuckyPennie iPhone app, available today on the iTunes App store for free. Taking the music industry by storm, the LuckyPennie application is designed to re-imagine the way we discover music.
A new product in a growing collection of music businesses by PhD John Wolanin,   musician and serial founder Jonathan Lane, and developer Joe Landon, LuckyPennie is music discovery from local tastemakers. With LuckyPennie, individuals can discover new tracks, find local shows, and connect with like-minded people.
"Between the three founders, we have been involved with the music industry for over thirty years on both the artist and business side," says Co-Founder John Wolanin. "However, even though we are based in Los Angeles, we still have difficulty finding new songs and events to attend. We built LuckyPennie to fulfill this need."
"Social platforms have revenues in the billions and concert promotion and music-streaming services have annual revenue of $24B and $767M, yet there still lacks a platform to marry the two services", adds the Los Angeles innovator. "Today we launch LuckiePennie to be this bridge."
The new iPhone application — which launches today — offers a new vision for discovering music. With an easy-to-use interface, individuals can discover music from influential tastemakers, the people who know their local music best.
As Co-Founder Jonathan Lane explains, "Imagine visiting Los Angeles. Locals in the LA music scene, who are passionate about music, post songs and concerts that are relevant to their music scene. These are bands that you probably don't know about. But once you fire up LuckyPennie, you can get a glimpse of the scene here in LA and get leads on what bands to see, where to see them and almost just as important, who to see them with, while in you're in town."
For the last decade or so, the way people access and connect to music has gone through dramatic and rapid changes," says John, who earned his Doctorate in Psychology before co-founding LuckyPennie.
"If you look at activity now, there is incredible diversity in the public's interaction with live music."
LuckyPennie's true potential lies in the ways it can serve as a central music platform to "unify the social discovery experience", he says.
With LuckyPennie, locals are the curators and the platform is leveraged to crowd source curation, with the most relevant users bubbling up to the top with its trending algorithm. Users are rewarded with "cred" for posting unique content, and individuals with more cred wield more influence through the app's reputation system.
Registered users are encouraged to create "crews", which are a user's playlist of people, as opposed to a playlist of music. In contrast to the anonymous users that existed in the Napster era, LuckiePennie fosters a sense of community where people can get and share recommendations and even chat.
Says Co-Founder John Wolanin, "We believe people are just as important in the music scene as the music itself."
With a greater number of people attending live concerts in the US, a bridge between mobile, social, and live events has become more important than ever. According to a study by Pricewaterhouse Coopers, live music will expand at a 7% compound annual rate from $8.7 billion in 2011 to $12.2 billion in 2016. Live music was earlier attributed as the leading factor for the U.S. music market's 3.4% growth in 2011, with a return in concert ticket revenues making up for the declines in recorded music sales.
"I think many people underestimate how large the live music industry is," Co-Founder Joe Landon adds. "This market is not decreasing, rather the opposite – studies expect it only to grow."
LuckyPennie is the brainchild of an experienced team of startup founders, artists, designers, and doctors, with a repertoire of more than 100 startups between them. The crew boasts the designer to a number of Y Combinator startups and the developer to dozens of award-winning mobile apps. Together, they know all the ins and outs of the music industry.
Co-founder John Wolanin has a Doctorate in Psychology, and earlier worked as the lead designer in his own firm. With 10 years behind him as lead designer and advisor to more than 50 startups, John has been described as the "designer to startup CEOs".
Jonathan Lane, also co-founder of LuckyPennie, is a serial entrepreneur in the music industry, and he is also the Co-Founder of the NextSpace coworking space in Los Angeles. Jonathan is known as a connector between both the music and startup industry.
Joe Landon is a developer that has published numerous award-winning mobile games with Atari and other brands. He has over 10 years of development experience and had earlier served as the lead mobile developer for Break Media. Joe graduated from Baylor with a degree in Computer Science and the California Institute of the Arts with a degree in both Music Technology and Music Theory.