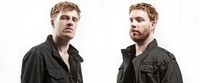 Formerly known as The Jim Ivins Band, I had the pleasure of reviewing their last two EP's but that was then and this is now.   Actually, it's Tomorrows and don't forget it!   Made up of brothers Jim & Jack Ivins, Tomorrows are trying to breathe new life into Rock music that they feel is way too watered down these days.   The duo hopes to accomplish just that on their upcoming debut release titled 'The Code Duello'.
Originally from Richmond, Virginia, Tomorrows made the big move to New York City to really shake things up.   Living in a new city under a different band name, it appears to be a fresh start for Tomorrows.   Jim Ivins handles lead vocals & guitar while Jack Ivins bangs away on the drums.   Together, they are giving you a full, rich sound that will resonate with music enthusiasts everywhere!
'The Code Duello' has yet to be released but what I do have are four songs giving the audience just a little taste of what the full record might sound like.   The first single featured off of the upcoming album is called "Heartbreakers" and let me just say that you will be far from heartbroken after you hear this smashing performance.   Tomorrows will pump nothing but rock-driven chords through your eardrums giving the listener a feeling of extreme satisfaction.   "Heartbreakers" does prove to be a bit harder than previous material but it all comes crashing in with sharp harmonizing & pop-friendly vocals.   The next song, "Lay Me Down", has Jim laying it down on guitar with some monster riffs that will rock your world.   And his bro Jack is providing the ideal beat and perfect amount of energy to really make this track move in the right direction.   Get ready to join Tomorrows at the "Masquerade" where they are dressing up the song with some wonderful harmonies and proving they have nothing to hide.   Their voices are stealing the show here!   And then Jim and Jack close the 4-track set with "Tell Me" where you will get striking vocals that speak to you.   I will tell you that this duo proved to have many magical moments that stole the spotlight on this number.
https://www.facebook.com/tomorrowsband
Overall, Tomorrows deliver on all aspects musically, vocally & lyrically on the teaser to 'The Code Duello'.   Having Rock at the core with Pop melodies in place, Tomorrows have figured out the perfect formula for success.   Jim and Jack Ivins took a gamble but it appears to have paid off!   When you get the perfect team and balance of sound you get a winning shot with Tomorrows and their new project.   It's actually quite ironic that during a review of their self-titled EP, 'The Jim Ivins Band' I stated that: "If you're not a fan TODAY, then you will be TOMORROW!"   Well my friends, that day has come!   Get ready for the full-length album, 'The Code Duello', coming soon!
4.5/5 Skopes
By Jimmy Rae (jrae2@att.net)