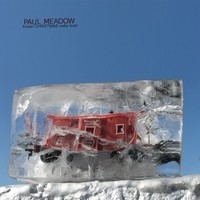 Paul Meadow is one of those singular composers band out of Brooklyn, New York who just released his latest EP entitled Frozen Christmas Radio Train in late 2013. Meadow presents an original blender of sound mixing bands like Psychedelic Furs, Love and Rockets, R.E.M, Brian Eno, David Sylvian and Divine Fits. On this EP expect highly original songwriting with some soulful vocals and harmonies. Meadow touches on many musical styles here, fusing several genres with in each song. This latest EP offering is a striking and melancholy 4 track EP that gleefully dances up and down the spectrum of modern-day alt-rock with hints of Americana-blues served up hot on the side with a dash of dance rock. The CD Opens with the finger snapping "A Frozen Heart" and pulls out all the stops until the final track "Choo Choo Train." The album as a whole pretty much hits on all cylinders but at times is what I would describe as melancholy-joyous, "Frozen Christmas Radio Train" covers a lot of ground. For example my favorite track "Radio Waves Goodbye" could even be a dance rock song and has hit potential. Other songs sound like carnival folk combining accordion, organ and guitar. Despite all this I would file this EP under "A" for Alternative Rock. The music and impassioned vocal presence of Meadow present the perfect musical backdrop for just sitting back and jamming out or playing in the car. While each track is similar within their own right, all pieces on this EP delivers unique, emotionally charged music that will satisfy pretty much any aficionado. Of particular note are the amazing, highly original, vocals provided by Meadow as he clearly holds nothing back. In many ways Meadow is a brilliant singer and composer, and what you hear/see is what you get — no farces. He delivers many solid yet overly eccentric vocal performances within their own right. He does all this while retaining a masculine/feminine fullness that compliments the skillful array of sounds brought forward by his playing. Though I could be wrong I suspect musical influences here are as follows: Psychedelic Furs, Love and Rockets, R.E.M, Brian Eno, David Sylvian, Divine Fits.
Tracks that stand out for me are: Christmas Alone, Radio Waves Goodbye. All tracks are strong.  
To sum it up: I give the Paul Meadow and enthusiastic four out of five stars and highly recommend this album to any fan of alt rock, Americana and blues. Grab yourself a copy of "Frozen Christmas Radio Train" and open your mind and hear to some fascinating songwriting by an eccentric but talented artist known as Peal Meadow. It definitely sets the standard for this genre, and Paul Meadow should be a big hit with cult followers.
Locale: Brooklyn, New York
Sounds Like: Psychedelic Furs, Love and Rockets, R.E.M, Brian Eno, David Sylvian, Divine Fits
Final Rating: 5/5 Stars
Review by Andrew Brooks (UK) edited by Joshua Beach
Review comments: joshuabeach9@gmail.com