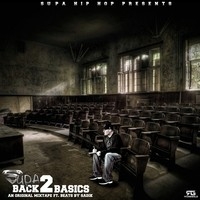 The Supa is in the building and he is not leaving until he fixes the rap game!   Supa is a dedicated rapper who is on a mission and won't quit until the job is done.   Supa is going 'Back 2 Basics' on the all new Mixtape featuring beats from Sadik.  
Originally from North Carolina but now residing in Texas, Supa is calling out all of the plastic MC's out there who are supposedly ruining hip-hop.   Supa refers to this tragedy as a "hip-hop hypocrisy" and I simply love this idea.   So 'Back 2 Basics' is just that where Supa & company are giving their respects to rap pioneers as well as others who came before them like Biggie & Tupac.  
I also love the fact that Supa emphasizes to "Never Forget where you come from" on track 11 stressing the importance of family & God.  
Supa is joined by some talented up-and-coming underground artists that share the same passion to make a BIG-TIME statement in the hip-hop world.   Like Supa says on one of his songs "Dream big or go home" is the attitude that surrounds this entire 16-track set.   Hip-hop is in Supa's blood & DNA and so he and his crew are kickin' it 'Back 2 Basics' with some definite old-school flavor in the air.
Listen: http://www.datpiff.com/SUPA-Back-2-Basics-mixtape.549203.html  
Supa has a sick 'n' nasty delivery on the mic that he likes to call "Wolverine flow".   I agree 100% that Supa is solid as a rock and also that he is slashing his way through the competition.     I also believe him when he flat out says that he is "hip-hop's fresh, new voice".   God knows we need a spark plug in the hip-hop scene to come in and break the mindless monotony of broken records.   Supa just may be that person and 'Back 2 Basics' is a good indication of that.  
You also can't forget about the hot, pumpin' beats that saturate this Mixtape like on track seven "Ima Do Me" that will have you bouncin' all over the joint.   And I was really impressed with the song "All I Got ft. TraMayne Williams" because it had a little of everything from a soulful approach & catchy hook to soothing vocals & heartfelt words for the special lady in Supa's life.   Supa is spittin' lyrics like a dictionary on the Mixtape and not holdin' anything back.  
I highly recommend 'Back 2 Basics' because I really feel Supa is trying to bring hip-hop/rap back to its roots.   Say goodbye to all of the "Candy Land" rappers out there polluting the airwaves and say hello to SupaMan & the SupaMovement!   With rhymes all day and beats in your sleep, 'Back 2 Basics' has it all!
4.5/5 Skopes
By Jimmy Rae (jrae2@att.net)