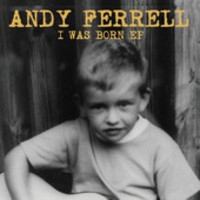 Americana singer/songwriter Andy Ferrell is an emerging artist from North Carolina. His debut "I Was Born" is a culmination of traditional roots, country and folk and owes a debt to Andy's idol and musical mentor Doc Watson.
The e.p. kicks things off with "On The Road" which is a tale of his travels overseas to New Zealand, which ironically brought him back to an appreciation and deeper love for the music he grew up with and is now performing. Country bars across Tennessee should be playing this one.
"The Ring" is next, and has a very Bob Dylan-esque vibe. Maybe it's the drawl or overall folk sound of the track, but the violins bring right back into the country and bluegrass sound which permeates the e.p.
"Spare Change" shines when the chorus harmonies come in. The simplicity of the standup bassline keeps the song chuggin' away like a song from days long gone. It's country minimalism, a bass, guitar and singer.
Things pick up with "Honey Where You Been So Long" which is almost pure bluegrass of the Doc Watson tradition. The fiddles flying throughout the song and quick tempo is sure to make this a fan favorite. It's an ode to a loved one that anyone can relate to.
"Waitin' On The Rain" begins with a harmonica intro and ventures back into folk territory. The fingerpicking is top notch and while it's no barn burner, it's steadfastness and poetic nature keeps things interesting. Did Mr. Dylan add a harmonica solo to this song? hmmmm…
Alright, no more Bob Dylan references. "Poor Boy Blues" closes out the e.p. and has a true swamp blues guitar intro that would make R.L. Burnside grin. The song brings us back to the beginning, it's about a traveller leaving home.
Andy Ferrell is sure to find some new fans with his debut "I Was Born".
http://www.andyferrellmusic.com
Douglas Garnett – douglas.garnett@gmail.com