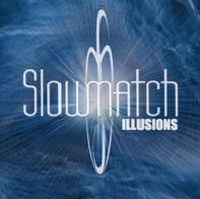 Combining years of musical experience, this world traveler, composer, songwriter, producer known as Slowmatch has been around for many years but was born in Brussels, Belgium. It is inspired by the post punk scene, and what was called the Cold Wave, and bands that broke new ground like Joy Division, Bauhaus, Killing Joke. It also absorbs the contribution of Industrial bands. Distorted guitars blend with synthesizers, and drums blend with drum machines. Now based in Chicago this "one man band" continues melding a unique yet accessible blend of aggressive guitars, polyrhythmic beats, tasty keyboards, groove-ridden bass lines and infectious vocals. The Slowmatch sound is a testament to how this mysterious artist insists on shifting the face of Hard Rock, Metal of Industrial Metal. Enter the mind musing, cosmic trip of his latest fill length CD entitled "Illusions" and you will see this is really an Old School Industrial Rock composer with a modern sounding flair. This dark opus skirts the lines of life and death, love and loss, and everything in between. It's a primal scream and very human blend of Slowmatch and his progressive yet accessible signature jagged edge rock sound. Indeed intelligent lyrics and catchy melody lines are the heart of his formula. The music brings   complex tunes, heartfelt rhythms and melodies, and an element of heavy beat laden Prog-Rock together via a high-energy release that's sure to provoke a positive reaction from every listener that gives him just a minute of their time.   At the end of the day Slowmatch is an exciting EP full of dark energy that will push the envelope. The 3 songs on the album (Illusions) (Without a Word) and (Beauty and Destruction) are a mixture of songs that encourage you to tap your foot, but also offer a mixture of dark and foreboding sounds, topics and a wild musical landscape that will keep you guessing and   wondering what's around the next corner. From sonic-theatrical title track to more intense (Without a Word) one of their more impressive tracks, to the more trippy (Beauty and Destruction) there's something here for old and new rockers alike.
Criticisms: Slowlatch needs to take some vocal lessons. His vocal appeal is lackluster at best and he needs to stack up to where his writing level is. Right now it's way behind. Drums sound kind of corny, overly sonic and cheesy at times. This EP needs 3-4 more tracks.
Despite this whoever Slowmatch is he offers a unique opportunity to sit back and see where the wild journey takes you via an interesting CD that will remind you of Alice in Chains, Rob Zombie, White Zombie, Scum of the Earth, Powerman 5000 and even NIN. Slowmatch is a blooming Chicago based project worth checking out via these 3 new recordings linked below, but above al his hard sound captures the essence of Hard Industrial Rock at its roots.
Purchase Link: http://www.cdbaby.com/cd/slowmatch
Rating 7/10
by Brian Davidson edited by Markus Druery
Review comments: marktheshark972@gmail.com