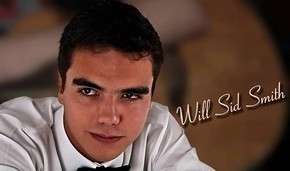 Introducing the UK's Will SID Smith, not to be confused with his American superstar counterpart, Will Smith. This young songwriter has the industry and music fans taking notice, with dramatic flair and indie compositions.
Skope: First off, tell us a little about yourself. What got you into songwriting?
Will: I guess it's what gets a lot of people into songwriting – a bad break up. I tried to write songs before but couldn't find the inspiration, and when this happened,it seemed all of the things left unsaid and undone found their way onto paper. I realised that these songs were decent after receiving some positive feedback from my friends and family, so I began to go to an open mic night near my village and everything just took off from there. Although there are tons of things I wish I didn't have to experience during my adolescence, somehow it seems kind of worth it when I look at the music that I've made, and the people that I've met along the way who have inspired me and made me the person that I am today.
Skope: What type of artists would you compare yourself to?
Will: I always find this question really difficult to answer for some reason, maybe because it feels strange to put my name beside artists such as Chris Martin from Coldplay, James Blunt or Ed Sheeran, but I suppose I can relate to these guys the most.
Skope: You have a new single out titled "Safe", what's it about?
Will: It's an odd story really… I was approached by a German film director to write a song for an upcoming independent film of hers, and somehow I got it into my head that she wanted it to tell the story of someone who had just witnessed their best friend being murdered by a couple of guys in the woods. Not sure how I came to think this, but with the scene in mind, and some pre-composed music, I got to work and finished it in about half an hour. This precis of the song wasn't totally off, fortunately it was supposed to be about death – so I made it about death. Sounds morbid I know, but it just gave me the oppurtunity to write about something interesting and deep, and being able to tailor a song to fit an idea of another was a whole new experience.
"Safe"
http://www.youtube.com/watch?v=wCeI8vDAsmo
Skope: Do you write all of your own material or do you cowrite and who produces your music?
Will: I write all of my own material. Always have and probably always will. I don't seem to work that great with others when it comes to songwriting, probably because it's more of a personal thing – crawling into my mind and picking out the words that I want to sing, but I think if I find some good instrumental piece that needs some words then I'd be happy to contribute. There's just something about words, they need to be mine if i'm going to say 'this is my song'. I have worked with a couple of producers in the past, but recently i've been honing my skills at production and it's been really fun to be able to write, play, record and produce the songs that I want. I'm currently studying Music Technology at my school and am planning to do it at degree level so production has become a really big part of my life as well as performing – I'd be happy doing it forever.
Skope: Would you say at 18 that you're still defining your sound and how long have you been writing songs?
Will: Definitely. I feel like i'm growing every day musically and I've always found it difficult comitting to an idea of how I want to appear as an artist. I know there are so many more styles and techniques I need to explore before I establish myself as an artist with a definite sound. I think i've been writing songs for slightly over 4 years now. It took me a little while to develop a decent song though, one with soul, structure and meaning, but eventually I found the inspiration and just the right dose of self criticism to make it good.
Skope: Do you play any instruments as well as being a singer?
Will: Yeah sure, I play guitar, piano, bass and I'm pretty good at the shaker as well. Self taught on all of those except a few guitar lessons some years ago, but I wouldn't mind taking some piano lessons in the future because the pedals are such a nightmare.
Skope: Do you perform anywhere live? Do you have a band?
Will: I've been performing live for about four years now, and it's been so much fun. To be able to put my guitar round my back and go up to London for a gig is pretty cool now that I think about it, and though I get really nervous every single time I always have a good night. Unfortunately I don't have a band, it's always been a trouble getting musicians together and practicing enough to be able to play a gig. Plus it's so much easier travelling without taking   multiple guitars and a drum kit around.
Skope: Who has been the biggest influence in your life?
Will: This is such a hard question, don't think i've ever been asked this one… From every person who has ever been a part of my life? I suppose that would have to be no one. Sorry, but I just can't think of any single person who has influenced my life the most. Every person that I have ever been close with has been a huge influnece on me at one time or another, so it's hard to pick just one person over the span of 18 years you know?
"Never Forget"
https://itunes.apple.com/gb/album/never-forget/id763687449?i=763687455
 
Skope: Are your lyrics personal experience or storytelling?
Will: Little bit of both I guess – there are some situations where I'm not actually experiencing what's happening, but I try to put myself in a character's shoes or narrate some kind of idea – like I did with my new song 'Safe', but I do find it slightly easier to write about a particular experience of my own because all the words are there and all I have to do is pick them out and make them rhyme!
Skope: Do you have an album coming soon or are you a singles artist?
Will: At the moment I'm probably more of a singles artist, because I've released 2 singles in the past couple of months and it seems like a good idea to get my stuff out there as soon as I've finished producing it instead of making people wait 6 months or whatever for an album. So no album any time soon, but a string of singles is the way to go for now.
Skope: Any advice for other younger artists looking to build a career as a songwriter?
Will: The first thing to do is to get your parents involved as much as you can. My parents have been really supportive throughout my music career, which includes driving me to gigs, paying my train fare for trips up to London and everything else I need to do what I do. I know not everyone may be as fortunate, so I advise to press your music on them as much as possible until they give in. And also, never write a song thinking about how other people will like it, it just doesn't work. Just let it come naturally and great music will happen.
Thanks for having me!
Catch more of this young songsmith at http://www.willsidsmith.com.
Douglas Garnett – douglas.garnett@gmail.com – http://digdugdisaster.com