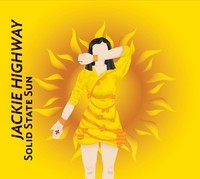 This is Jackie Highway's (Angie Shyr) latest release entitled 'Solid State Sun" in 2013.   core members include only Shyr. Shyr is a classically trained Pianist and a one man band type of writer, or in this case a one woman band. Solid State Highway is one release that certainly doesn't disappoint. This is one artist that brings to the table effective songwriting via a highly diversified sound. This meshed with a highly exotic Indy-Electronica sound and effective visuals/vocals make for a very effective combination indeed. Couple this with a slam dunk Piano playing chops and you have a winning ticket. Jackie Highway is just a breath away from 90's Alternative- Rock with sounds that will remind you of No Doubt, Hole, Ace of Base, Garbage, and Four Non-Blondes. However on the other side of the sonic spectrum I can hear a modern day influence of Pink, Pillow Fight Club, Hey Monday and A Fine Frenzy. Shyr delivers a pretty diversified sound all around, I/E high highs and low lows. A sound like this could fit nicely into into Power Pop Rock but Shyr skillfully and methodically never crosses into that musical realm. Instead she has meshed a skilful combination of each song. All songs are wonderfully simple but masterful in their overall arrangements. Personally I see Shyr as a cross between This is She and No Doubt but their sound goes beyond comparison. Solid State Highway is quite entertaining overall with an amazing vocal front and Piano from Shyr. Shyr has an effective voice and brings a unique appeal (visually and vocally). The lyrical content is straight from the heart as she offers a very funny and zany female perspective and spirit. Some songs are polar opposites though like "The Grant."
My top Tracks are Forever Now and Ride the High Tide.
Criticism: Some aspects of the mix severely lack a modern day depth, dynamic and marketability. The production value though adequate is a bit lackluster
Final Word: Jackie Highway has proven herself with this latest release. She's clearly an up and coming talent and is a capable musician, singer, producer and entertainer. I must admit Jackie Highway sucked me in like a powerful drug and refused to let go long after the CD was over. This usually indicates something special about the artist or band in question. Thus deserving praise, recognition and musical fame at the international level.
URL: http://jackiehighway.com/
Overall Rating: 3/5
by Stephen Draper edited by Joshua Beach
Review comments: joshuabeach9@gmai.com