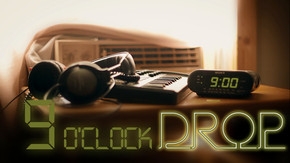 Hello everyone out there, pleasure to see you here today. I know we have many readers in St Louis, MO and it's all love, but go Red Sox! I was on one of my favorite websites the other day vladtv.com, and they had Lord Jamar talking about how white emcees are guests in hip hop – youtu.be/uYGs4nP4Lvk. I respect his opinion but I want to remind him of a few names like Dave Mays, Steve Rifkind, Rick Rubin, Clive Davis, David Geffen, Lyor Cohen, Marc Ecko, and so many more that helped turn street emcees into millionaires, truth! Mi2n.com is reporting that annual sales of vinyl LPs have crossed the half a million mark for the first time in more than a decade. That is really interesting considering we are in the digital age. Today I have an emcee from PA by the name of Dubby who has been running the "The 9 O'Clock Drop" promo all month. Every Tuesday night at 9 pm he drops another single via social media. I really loved the concept and the music so I had to have him on. Join us this week as Dubby speaks on the concept for "The 9 O'Clock Drop", the music scene like in Gettysburg PA, whats up for Halloween, and so much more!
Stoli: Where are we talking from today and whats up for Halloween?
Well, I am currently doing some homework for my radio promotions class at my desk!   As far as Halloween goes, I will dropping the last 9 O'Clock Drop on the 29th.   I also have a show at Indiana University of Pennsylvania on November 9th which will be sponsored by chipotle and free of charge!   It is my last Halloween as a college student so my roommates and I are planning to go all out with some crazy costumes.   Haven't quite thought it out entirely though haha.   I wish I had a Halloween show this year, but I'm not complaining.
Stoli: At what age did you get the alias Dubby and really begin to take your skills seriously?
Kind of a long story, but it started in about 7th grade when I began playing AAU basketball.   My coach kept butchering my name (Caleb) so he started calling me "killa" … yes, with an "A".   Killa slowly became "Korver" because apparently I resembled Kyle Korver who plays for the Atlanta Hawks.   Korver then became K-Dub.   I then had to tell my teammates that my name started with a C, not a K.   So I was C-Dub, which stuck until the summer before my freshman year in college.   I changed C-Dub to Dubby when I decided to leave the group I was in (Burg City) and become a solo artist and I have used it ever since.
9 O'Clock Drop (Week 4) – "Mother Nature"
http://youtu.be/BfGlaFi2LrA
Stoli: Where do you receive inspiration for what you talk about in your lyrics?
I am inspired by so many different things. Something as simple as the tree outside of my window to a sick line in a Big Sean song.   Everyday events are kind of what keeps my ideas fresh.   Lately I've been on a reality trip where all my music seems to really analyze different situations with a lot more detail.   These situations are usually stories of my life or the lives of others.
Stoli: What is the music scene like in Gettysburg PA, and are your friends & family supportive of your musical ambitions?
I feel as though when it comes to hip-hop, Gettysburg doesn't have much to offer.   There are a bunch of artists from Gettysburg that I know such as Dope City and my man Triggaman, but no one really goes the extra mile to make music their livelihood.   I'd like to create a bigger scene and I have certainly been trying to, but it's hard when rapping is a hobby for some people and not a lifestyle.   My family supports me and have finally accepted that this is what I want to do.   I have a lot of friends that support what I do, but the support really comes and goes.   I remember freshman year of college, everyone I knew would be posting my music everywhere, but now a days I feel like I have to beg for my friends to post something.   The support is there, just not consistently.
Stoli: Tell us about Team Loko and what are you guys all about?
Team Loko started as an idea to unify my fan base.   We saw how wiz did it with "Taylor Gang" and how Mac Miller did it with "Most Dope" and we wanted a way that would bring everyone together that supported what I did and the movement that my team and I were trying to make happen.   Team Loko wasn't originally going to be a clothing line, but ever since our first t-shirt drop, we have been collecting ideas and graphics for hates, socks, shorts, beanies and everything that you could possibly wear.   We are now pushing the brand Loko Apparel as a style to go right alongside the hip-hoop movement.
Stoli: When did you get the concept for "The 9 O'Clock Drop" and how has that been going so far – #9oclockdrop?
I started the 9 O'Clock Drop last year in April as way to show my fans how much I've been working and give them some free music.   It was a marketing tactic in hopes that after every drop I would have people really looking forward to the next one.   It was very successful then, but social networks were a little more relevant then as well.   Now I have to do a lot more work to get a couple views, but I'd say it has been going pretty well and I'm really excited about these next 2 drops!
Stoli: How did you decide on the five tracks that you would release and in what order?
Well, I would have liked to do it differently, but shooting 4 videos isn't cheap.   I had to make songs that were under 2 minutes so my cinematographer (Brad Gillespie) could stay within my budget.   I really had a couple songs that I wanted to drop, but they are full length songs with strong concepts that needs a lot of filming and editing time.   The videos I have been dropping are non-concept and were made to be very simple, just so my viewers could get a visual.   The order I chose was based off what I liked best.   The first and last songs are by far my favorite.
Stoli: I am really feeling "Pompeii." When did you write and record that and what does that single mean to you?
I appreciate that!   I actually wrote that song well before summer and had it recorded in early June.   I wanted to do something really hype with a Meek feel to it, but I didn't want to say the same thing every other artists says now-a-days.   I wanted to find a phrase or word that hasn't been used that I could make sound dope.   "I'm bout to blow up, call em Pompeii" … Made sense and was a little different so I rolled with it.   I actually just saw that there is a movie called "Pompeii" dropping in theatres around Christmas, weird.
Stoli: Can we buy all 5 songs on one EP or are they being released as singles?
After they are all dropped I will put them on a small tape that you can download for free.   You can already download all of them for free on soundcloud!   I wouldn't want to call it an EP though, just because I plan on dropping an EP in the near future with full length songs on it.
Stoli: When it comes to beats who do you work with and how do you decide what beat you will create a song too?
Haha, well, some artists might be salty about it, but I love soundclick.com.   There are just endless amounts of producer links with all of their beats.   I just haven't found a producer in person that can make beats to my liking so I lease my beats from producers on soundclick.   My favorite producers lately have been Lexi Banks and Cash Jordan.   I'd like to make my own beats with my engineer at my studio, but time is money and I'm in college so I don't have either, but when I get out I plan to do some work with live instruments as well as some beat production.
Stoli: Lord Jamar called white emcees "guests" in hip hop – youtube.com/watch?v=uYGs4nP4Lvk. What do you feel about that statement?
It is kind of sad how closed-minded he is about it.   He just made hip-hop about race instead of about the music.   At the end of the day, this is a genre of music, not a competition to see which race raps better.     In regards to his statement about Macklemore, I don't think he understands the marketability aspect that Macklemore created for himself when he released that song. He added an entire community to his fan base with a single song and now he is reaping the benefits.   It was genius in my eyes. He clearly isn't fond of white emcees and gay people from what I heard. It is his opinion though, not mine.
Stoli: Who are 2 emcees that you respect & admire from the past or present?  
Lil Wayne paved the way for me when he released The Suffix and the Dedications and the Droughts.   He had so much music and it was all FIRE.   I've never heard some of bars he was saying back in the 7th grade.   Certainly blew my mind and inspired me to get into hip-hop.   My other artist that I admire was Big Sean.   I got to meet him when I opened up for him last year at Slippery Rock University.   He is humble and a down to earth person and I will never forget the impact that that had on me and the people I was with.   I will always support what he is doing for sure.   Just bought that Hall of Fame album when it dropped haha.
Stoli: What is coming up for Dubby and where you @ online?
Well, I have a couple small shows lined up and some really awesome singles that I can't wait to drop during Christmas.   Loko Apparel will be dropping snapbacks and beanies very soon as well which I am ecstatic about!   They look dope as shit!!   I also have some crazy collabs in the works with some PA talent that I can't wait to get done.   Christmas break I'll be living in the booth.   Also, I'll be graduating soon and getting a degree which I'm really excited about, so I'm definitely staying busy. I would like to have a website up by June of this summer, but until then you can catch me on youtube.com/burgcityman, on twitter @Dubby_TeamLoko and on Facebook with a Dubby of Team Loko music page.   I'm on soundcloud, MySpace, Instagram and reverb nation too, just search Dubby of Team Loko and you'll find me!!!   Thanks for the interview man, I really appreciate the interest, take care!