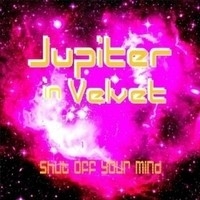 UK Rock act Jupiter in Velvet's new CD, Shut off Your Mind is a carefully crafted collections of songs showcasing Electro-Punk Rock artisanship at it's best that creates a punk based foundation for memorable and hooky songs. There is also a clear-defined messages about love and life itself that will sure to have a positive and carefree impact on many listeners. First a bit about Jupiter In Velvet. I Assume it's one guy vice a band and there's really not very much information on him anywhere. For now let's call him Jupiter in Velvet. Whoever he is he is the musical mastermind behind this project. 2013 has been an incredible year for Jupiter In Velvet. In January 2013 Jupiter In Velvet topped Reverbnation's London & UK Rock Charts. In February 'Screaming the Love Behind the Scars' stood at #9 on M3 Radio's Independent Album Charts, moving up to #2 in March. Also in March Jupiter In Velvet moved into the Sunset Island Music Top 25 New Band Chart, entering at #17. Jupiter in Velvet has also garnered a devoted fan base and gained the experience necessary to record and produce quality music. A blend of genres including rock, Punk, Rock, and Electro-80' synth. His latest offering, Shut off Your Mind is a varied and eclectic collection of 14 soul-tingling songs that will leave a lasting impression. You can definitely hear a little contemporary UK punk rock influence within his music like Classic Roxy Music, Rolling Stones and even Oasis. I see Jupiter in Velvet as a modern day David Bowie with a Rick Ocasek flair. You can also get a true sense of where Jupiter in Velvet has gotten a lot of his inspiration from — UK Rock with a catchy pop edge like The Kinks and of course The Beatles.. What's more his voice has a warm and inviting quality to it reminiscence of male empowered pop artists such as The Strokes, White Lies, The Last Shadow Puppets Blur and Babyshambles. The first few tracks title track, Only Heaven Knows, Lake Out and My Special Place provide the perfect good time beginning. Invisible is a cool and powerfully honest song and Ice Queen really rocks the dance hall. Many pieces are simplistic yet with fun messages like Drops of Love and The Deeper Side. Starman is another wonderful track really brings out the dazzling vocal purity of Jupiter in Velvet and delivers more of the same world class musicianship and trippy vibe. Overall, this latest release from Jupiter in Velvet is a real barnburner will bring nothing but positives to your status quos. The fully loaded CD is filled with much in the way of   passion, rock solid playing, noticeable guitar chops and top tiered writing. All this and more makes Jupiter in Velvet a force to be reckoned in the UK and beyond. Top Track: Starman.
URL: http://www.jupiterinvelvet.com/
Official Rating:   3/5 Stars
by Ann Hollister edited by Michael Rand.
Purchase Link: https://itunes.apple.com/us/album/shut-off-your-mind/id692882283?i=692884074
Review comments: therandbrand@gmail.com