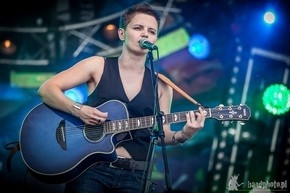 Here we are again. A new week is upon us, and it's going to be a good one. Should we be upset that the US government is closed or should we be celebrating? So before we begin today I want to start by talking about how excited I get when I see music marketing & technology mesh. Rhapsody is kicking off  a new partnership with BandPage by exclusively marketing several BandPage Experiences directly to fans of those artists. I am telling you folks, we have not even touched the surface on how amazing the experience will be for music consumers. Now lets get to the music with a solo artist that goes by Back To The Ocean. If you have not heard the vocals on this woman, you are missing out. I bought her song "Snow and Rain" on Amazon MP3 and I have not turned back. Join us today as we head to Warsaw, PL to talk about her vocal ability, unrest and violence all over the world, being compared to legends, and much more!
Stoli: Where are we talking from today and are you sad to see summer slowly turning to fall?
 
I'm just back to Warsaw from Copenhagen Songwriters Festival. In Denmark, I could see the first traces of autumn. In spite of the festival's great atmosphere, the weather was rather cloudy and rainy. I hoped to catch the last of the some summer spirit in Poland, but it seems here it also began to turn to fall. I'm not happy about it… Sunny, warm weather makes me very optimistic and full of energy. In Poland we have 4 seasons: summer, autumn, winter and spring. Each one used to last about 3 months, but the pattern is changing year by year and the last two winters were very long. Most people complained about coldness and lack of sunlight.
Stoli: What do people do in Warsaw, PL for fun during summer months?
Warsaw is the capital of Poland, a vibrant European city. In summertime plenty of interesting cultural events take place here – concerts, exhibitions, performances, city games… A lot to do in your free time. On warm or hot summer days there are a lot of people relaxing on the banks of the Vistula, the longest Polish river which flows through the city.
Stoli: Agnieszka has a voice that makes you take notice and listen. At what age did you realize that you were blessed with such vocals?
My voice has always been a natural part of me, just a quality that I was born with. I never realized that it was so specific until I started to perform. After gigs, people would come to me and say how beautiful and magical it sounded to them, then also music critics started to underline its exceptional timbre. So, finally it became obvious to me that there was something in it. But when I sing, I use my voice very naturally and I never concentrate on its uniqueness. I just try to express emotions within the songs.
 "Yes, You Are The Sun"
http://www.youtube.com/watch?v=ta9iev0E5So
Stoli: What is the meaning behind the band called Back To The Ocean?
Actually Back To The Ocean is me, not a band. It's my artistic alias. A few years ago, when I started to record my own songs, I thought of it as a name for a band, but the musicians I cooperated with were changing and I realized that the basis and the core quality was me. The name came to me during a session of meditation. This was a very special and moving one. Suddenly I felt like I was sitting on the bottom of the ocean, able to breathe in the water, watching beautiful oceanic creatures passing me by, seeing wonderful oceanic flora. It was like being home, like reaching the deepest sense of unity with the whole world, being one with all livings. I thought "it's my home. The ocean is my home". And then I realized that making and performing music brings the same quality to me, so … making music is coming back home, back to the ocean.
Stoli: I am listening to 'Yes, You Are The Sun.' I love the album. How did you choose the 4 singles to be on the album and where did you write & record the music?
I am glad you love it, thank you. "Yes, You Are The Sun" is a very special album to me. It's the first one released under the Back To The Ocean brand. In fact, the title song and "There Comes A Time" were recorded in 2009 and the other two songs two years later. At that time I worked very hard, had a daily job and faced some serious difficulties in my life. I was very happy to complete the project and release my first "introduction" to the music industry and listeners. The songs have been selected very intuitively. I am a very prolific songwriter, so I had a lot to chose from, but I just decided on those that were most relevant for me at that time. They were recorded in a home studio.
Generally, songs just come to my mind unintentionally. It can happen in the car, while shopping or just after finishing a phone conversation with a friend. First comes a bit of music with a line or two of lyrics. I already know what it is about and it always refers to something important in my life or something that moved me. Then I just have to sit and complete the rest.
Stoli: I really love the song "There Comes A Time." What inspired Agnieszka to write that song and what does it mean to you?
"There Comes A Time", just like most songs I write, has been inspired by a real situation. The song is about being betrayed and humiliated, but sang from the perspective of the person who had overcome such abuse and has found her own strength. Still, it is about the need for revenge. It expresses the anger and desire to let the one who hurt us experience the same pain we were forced to go through. Actually, I don't think that revenge is the best solution in a world of injustice, but it's good to find the "no" energy inside of us and to express strong feelings.
Stoli: What was behind the decision to work with the full band on this album as opposed to a solo effort?
When performing on my own, I am in a very intimate relation with listeners and that's what I really love about solo performances. That's the advantage and it's good for gigs in small venues. But on the other hand, when you cooperate with musicians, there is the possibility to build complex and interesting arrangements, to create radio songs. Each musician, when really engaged in this process, brings her/his own quality, sensitivity and point of view. When  making the album "Yes, You Are The Sun", I was often moved to the bone. I remember screaming spontaneously "I love you" to the musician who played piano on the title track. He reached the depth of my soul and I was so grateful for it. The same about the bassist, who co-wrote two songs with me and produced the album. Or the drummer, Fela, the one I can always rely on as a musician and the one who has been with me from the very beginning of creating the band.
Stoli: Being that you are based in Poland do you feel that social media and the Internet allow you to have fans from all over the world and can you cite a cool example?
I consider the Internet and social media to be a miracle and a breakthrough for musicians anywhere in the world, especially for those living far from the US or Western Europe. There is such easy access to a variety of music which is created worldwide, to information about festivals and songwriting contests, to online lessons about singing or playing any instrument. There are crowdfunding websites. It is possible to co-write or record with a person living on the opposite side of the planet! Thanks to my activity on the Internet music platforms where I have my profiles, – Reverbnation and Sonicbids, I was lucky to find a great American agent, to successfully submit to world songwriting festivals in Nashville and Copenhagen, and to attract the attention of fans from all over the world. It's such a satisfaction to know that my music is listened to and appreciated by people in the US, Australia, Japan, Italy, the UK, Portugal, Canada, Germany, Sweden, Russia, Switzerland, Egypt… to mention only a few locations.
Stoli: There is such unrest and violence all over the world from Syria to Egypt and beyond. Should the EU and US be forced to take these refugees in seeking asylum?
Yes, definitely. But it is always a very complex matter. I believe we are one and we should support each other, especially when people suffer from violence. No country is isolated or independent from others, so there should be really strong public pressure on governments and societies where human rights are violated. But, of course, such actions should not serve any political or private interests. On the other hand, I think it's important for immigrants or refugees to respect the country sheltering them, to respect its culture and laws, to be a committed citizen who pays taxes and works for the good of the whole community.
 
Stoli: If you were to write a song on how you see the world and your life what would it be an uplifting or sad song?
As regards my life, it would be definitely uplifting. I have transformed myself from the point of being someone lost and not very self-confident to the state where I feel free and happy, having a great family of wonderful people around me and doing what I always wanted to do in my life. Even if it is not always easy, I feel at peace with myself. The state of the world is not so unambiguous to me… I wish our planet was a safe and green place to live for everybody. There are a lot of things that worry me… But I believe we are waking up.
Stoli: Does it add pressure being compared to such legends as Sade, David Gray, & Tracy Chapman or are you flattered?
I'm absolutely delighted and honored. No pressure :D
Stoli: What is coming up for Back To The Ocean and where you @ online?
I have just released my new 5-song album "Rain" and it's time to start promotion. With my American agent, we are working on details of the campaign which should commence on October. The album is very diverse – from a moody ballad "Rain" in the style of "Yes, You Are The Sun" through various shades of rock songs up to a light, quite pop one. I wanted to present the wider spectrum of the states of my soul and my songwriting abilities. The first song which announces the album is "Just" (a song very often called for as an encore by my audience) and the official video can be found on YT. In the beginning of September, I will start working on a video for the next song, the title track, the ballad "Rain".
http://reverbnation.com/backtotheocean
http://facebook.com/backtotheocean
http://youtube.com/backtotheocean
http://backtotheocean.eu