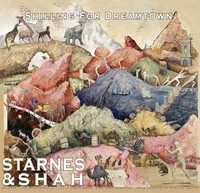 Starnes & Shah are back at it with their latest release, Shilling for Dreamtown. Their bouncy vibe sends enjoyment through your brain waves until you can't help but smile from ear to ear. I love these girls. It is very reminiscent to the popular 80's band Banarama and Shakespears Sister.
This CD is full on energy from beginning to end. The harmonies ring in your ears with such delight. Their voices are instruments of their own and blend so well as they intertwine and wrap around each note with such grace.
"24 Million"
https://soundcloud.com/starnesandshah/24-million
They have happy little ditties that keep you tapping your feet and singing along in no time. The production is spot on and over the years they have perfected their sound to create the voice of Starnes & Shah.
It's a distinctive pop, folk blend that grabs your attention. This is the perfect CD to slip into your iPod after a long stressful day at work and forget your woes. They have the ability through their melodies and lyrics to teach you to be thankful for the moment and celebrate to be alive. With music like this in the world, makes me think there is still some goodness yet to be experienced.
I have been a fan of Starnes & Shah since their first CD. They have stepped up and blew me away yet again. They have a lot to be proud of with this powerful musical mix. I could listen to them endlessly, I highly recommend you do the same.
I rate this 5 out 5
http://www.starnesandshah.com/
Rebecca Hosking – hoskingrebecca@gmail.com – www.rebeccahosking.com