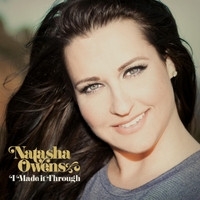 First off I'm a metal head. Apparently I've never heard Christian pop a day in my life. I imagine the reason being is because there's a somewhat limited market for this emerging record buying minority. Then again, the relatively straight and narrow reputation of its community and pioneers doesn't exactly appeal to me. But regardless of how you feel this genre has remained strong and resultant over the years and I must admit there is a resurgence of this type of music. As a result its subsequent movement cannot be denied its place in our world. So I'm willing to give Natasha Owens a fair shake. Clearly one the more charming success stories is from Texas based Singer/Songwriter Natasha Owens, Natasha Owens, the refreshing young Christian Pop songstress from Dallas, Texas who has been making a name for herself in the Christian, Country and Pop music worlds for the past several months with her infectious melodies and hard hitting message, is proud to announce the release of her debut album "I Made It Through" now available online at CD BABY.
I Made it Though" available on CD BABY – http://www.cdbaby.com/cd/natashaowens
This album is oh-so appropriately titled and is a true to form return of good, wholesome pop music that delivers everything its title implies — and more. It's passionate, hopeful music but goes well beyond straight forward tangibles. You can tell 2 minutes into Track 1 "Let Go" via the seamless timing, amazing vocals, well crafted movements you might be in for something special. Track 2 "Can't Stop This Fire" should be a lead out single and wasn't was I was expecting following Track 1. But seriously every track, every arrangement on this album is seamlessly blend into Owens craft. It's also testament to who she is — not just as an artists but as a human being. It's obvious that somebody loves this record. In fact I will admit I love this record and I love everything Owens represents. I will add Owens is quite appealing visually as well. "I Made it Though" is the fruit of passion that many have been longing to want for. As a newcomer, I strongly suggest you take on "I Made It Though" via the I-TUNES link below. First as foundation pieces I would advise "Cant Stop this Fire, "Let Go", The Cure" and "Your Name." If you like what you hear why not get the whole album via the above link via CD BABY. Building a familiarity with this Genre artists like Owens will enable the bulk of what you're in for ring a little truer. If you're a veteran rocker, then odds are you might think you know where you've been and where you're headed. Well guess what?. Natasha Owens also wrote this album for you to.
URL: http://www.natashaowensmusic.com
"I Made it Though" available on I-TUNES –
https://itunes.apple.com/us/album/i-made-it-through/id652575201
Rating 5/5
Eric Jarvis. Edited by Joshua Beach
Review comments: joshuabeach9@gmail.com